Does it matter if we install nuts on A325s and A490s with the manufacturer's ID and grade mark showing, or can they be installed either way?
There is no published requirement for making sure the ID marks are on the outside and visible. The main concern would be being able to ascertain that the proper nuts were installed. If all the ID markings are on the inside, they would not be visible, and an inspector could not see them. That said,... Read more
What grade of nuts and washers are compatible with ASTM A320 Grade L7 bolts and rods?
ASTM A320-L7 is a specification covering bolts, studs, and screws intended for low temperature service. Portland Bolt regularly supplies both plain finish and hot-dip galvanized A320-L7 fasteners to numerous customers in Canada and Alaska. Recently in our Portland Bolt Live Chat, an engineer asked this question as he needed to know what grade of nuts and... Read more
What grades of nuts are weldable?
There are many grades of nuts available in the marketplace, from your "run of the mill" nuts like you'd find at a hardware store, to specialized high strength structural nuts. These nuts are made from different materials and get their strength in different ways. Low strength nuts are made from a variety of materials and... Read more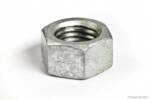 Since the threads inside of a hot-dip galvanized nut are bare metal, will they corrode?
The short answer to this question is no. However, there are many variables with regard to the protective coating that prevents the internal threads of a galvanized nut from corroding. In this FAQ, we will explore some of the variables brought about by this question. One of the first issues to address is the question... Read more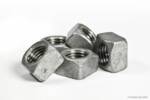 Can I use a hot-dip galvanized nut on a plain finish bolt?
Hot-dip galvanized nuts cannot be used on a plain finish bolt. Hot-dip galvanizing adds between 2 – 6 mils (.002" – .006") of zinc to the threads of the bolt and due to this increased thread thickness, hot-dip galvanized nuts are tapped oversize to accommodate and create a workable fit. These oversized internal threads on... Read more
Can an A563 Grade DH high strength heavy hex nut be substituted for a lower strength A563 Grade A hex nut?
Yes. According to ASTM A563, the specification covering carbon and alloy steel nuts, the supplier may supply any higher strength nut at anytime, but the supplier must give notice to the purchaser that the substitution is being made. The supplier cannot supply a nut that is prohibited by the inquiry and resulting purchase order. "1.2... Read more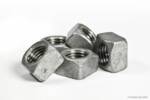 Can I use black (plain finish) or zinc plated nuts on galvanized bolts?
No. Hot-dip galvanized nuts need to be used with hot-dip galvanized bolts since galvanized nuts are tapped oversize to accommodate for the extra 2 – 6 mils (.002 – .006) of zinc that is added to the threads of the bolt during the galvanizing process. A common misconception is that bolts that are going to... Read more