Tag Archives: hot forging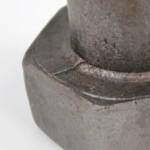 Are die seams allowed on headed bolts?
There are several differences between bolts intended for use in construction and more precision fasteners, such those used in an OEM application. One difference for headed bolts is the process in which the head is formed on the bolt and the resulting appearance of the bolts. Larger, construction headed bolts are typically made by hot-forging... Read more
Can a rod with a welded nut be substituted for a bolt with a forged head?
When a rod with a nut is substituted for a bolt with a forged head, two issues come into play. In-house mechanical testing performed by Portland Bolt on headed bolts versus rods with a nut, both from the identical lots of steel, the rod with a nut developed up to 12% less strength than the... Read more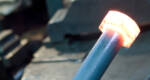 How is a bolt head formed?
What many people do not realize is that the head of a bolt is formed by heating the end of a piece of steel round bar and then forging (reshaping) the heated end into a head. The head is not welded on or otherwise "attached" to the end of the round bar. For example, the... Read more