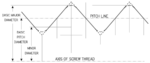 What is the meaning of thread pitch, major diameter, minor diameter, crest, root, flanks, angle, and run-out in the context of external thread?
Portland Bolt forms threads using two methods: cut threading and roll threading. Cut threading is a process that removes steel to form the threads. The roll threading method we utilize starts with reduced body pitch diameter steel. To make a one inch bolt we would use .912 inch round bar. This steel is forced between... Read more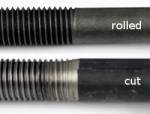 Do Bolts with Rolled Threads have a Full Body Diameter or a Reduced Body Diameter?
When threading bolts, the two most commonly used methods are cut threading and roll threading. We are often asked if bolts which have been roll threaded have a full body diameter or a reduced body diameter. Depending on the type of fastener, the answer is both. When Portland Bolt produces bolts with rolled threads, we... Read more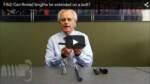 Can Portland Bolt add more thread to our existing bolts?
Basically, there are 3 different configurations of threads: Full-body cut thread Reduced-body rolled threads Full-body rolled threads Full Body Cut Thread Full body cut threads use full size round bar and the threads are cut into the steel. This is a commonly used method, especially on larger diameter products, long length products, and small quantity... Read more

What is the difference between a bolt with rolled threads and one with cut threads and does a fastener with a reduced body and rolled threads meet ASTM specifications?
Threads of a mechanical fastener, regardless of whether it is a headed bolt, rod, or bent bolt, can be produced by either cutting or rolling. The differences, misconceptions, advantages, and disadvantages of each method are described below. Rolled Threads Roll threading is a process by which steel is extruded to form the threaded portion of... Read more
Are roll threaded anchor bolts with a reduced body allowed on school projects in California?
Contrary to popular belief, roll threaded anchor bolts are acceptable for schools in California when connecting steel to concrete. Portland bolt spent three years working with the California Department of General Services Division of the State Architect to dispel the rumor that only full body cut threaded bolts could be used. The link at the... Read more