Portland Bolt's 15th annual NFL Survivor Pool is open for entry. Join for free, and compete for your chance to win Amazon gift cards and awesome Portland Bolt gear! Over $900 in cash and prizes is up for grabs!
The rules are simple. Pick one NFL team each week to win their game, and survive to play another week. A single incorrect pick will eliminate you from the competition, so choose wisely.
Prizes include:
First place: $250 Amazon gift card, engraved trophy, Portland Bolt 64 oz growler, Portland Bolt polo shirt
2nd Place: $100 Amazon gift card, Portland Bolt 64 oz growler, Portland Bolt polo shirt
3rd Place: $50 Amazon gift card, Portland Bolt 64 oz growler, Portland Bolt polo shirt
Three random participants will also win a Portland Bolt prize pack including:
Portland Bolt 64 oz growler
Portland Bolt insulated stainless steel pint glass
Portland Bolt baseball cap
Get your pick in by Sunday, September 12th at 1:00 pm ET. If you want to pick an early game you must do so by kickoff. Have fun, and good luck!
The importance of providing the specified fasteners
Are you willing to risk your company's reputation and/or a potential lawsuit by letting a fastener salesperson convince you to substitute an alternate type or grade of bolt for the fastener that has been specified on your project? Unfortunately, this happens all the time with potentially disastrous consequences. There is a reason engineers specify a certain type of product with specific chemical and strength requirements. A rod with a welded nut may or may not be an acceptable alternative for a bolt with a forged head. Substituting A193 grade B7 all thread rod for a different grade of fastener just because it is stronger doesn't mean it will work for that particular application. Sometimes the intent of the engineer was to use a lower strength fastener with more ductility.
Commissioned fastener salespeople will often suggest substitutions just to make a sale without a second thought as to the potential liability issues should a structure fail due to such a substitution. If you are a purchasing agent, project manager, superintendent, or hold any other role that empowers you to procure fasteners for your company, you have a tremendous responsibility to your organization to purchase the exact product that has been specified on your project. If you allow a fastener company to sell you an alternate product they claim will be an acceptable substitute, it is your responsibility to obtain approval from the Engineer of Record to make sure that product will work for your application. If you don't, you may be opening a can of worms.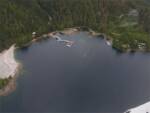 Edna Bay, Alaska
Edna Bay, which is the only populated town on the remote Kosciusko Island in southeastern Alaska, relies heavily on the fishing industry for its local economy. In February of 2021, we provided fasteners for the replacement of the timber float system.
The materials consisted primarily of headed bolts, including hex bolts, lag screws, and timber bolts as long as 44". Our roll threading equipment enables these custom bolts to be manufactured extremely efficiently. As is the case with most marine construction projects, all of the material was hot-dip galvanized, which we perform right here in our facility.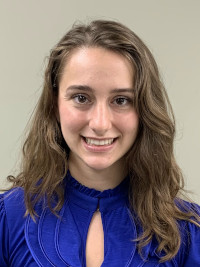 Jessica Kalebaugh was born in Bend, Oregon. She grew up in Myrtle Creek, Oregon then moved to Corvallis for college. Jessica graduated from Oregon State University with a Bachelor of Science degree in Business Administration. Before beginning her work at Portland Bolt & Manufacturing, Jessica accumulated work experience as a carpenter and a sales rep at General Nutrition Center. In her spare time, Jessica enjoys walks in downtown Portland, weightlifting, and reading. As a foodie, she is always looking to explore new restaurants and add new recipes to her arsenal.
Education: Oregon State University – Corvallis, Oregon
BS – Business Administration
Hobbies/Activities: Lifting, reading, art (drawing, painting, sewing), baking/cooking, spending time with friends/family
Books: Falling Kingdoms series, Graceling, Atomic Habits
Food: Thai, Mexican, steak dinner (anything besides seafood…)
Dessert: Pie (peanut butter, coconut, peach, strawberry, pecan, marionberry), dark chocolate anything, ice cream