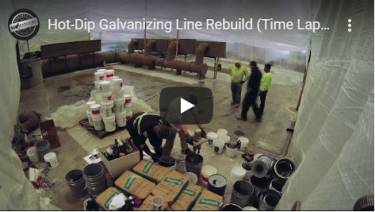 In February of 2019, as featured in our July 2019 newsletter, we performed a complete overhaul of our hot-dip galvanizing line by replacing our preparation line tanks and our hot-dip galvanizing kettle. After 10 years of continuous operation, this scheduled preventative-maintenance project was essential in order to continue galvanizing uninterrupted for years to come.
Portland Bolt is one of only a handful of companies that not only manufactures bolts but also galvanizes them within the same facility. Our 12′ long X 7′ deep X 4′ wide kettle is designed specifically for threaded fasteners and allows us to control the manufacturing schedule, check the quality of the product, and package the fasteners immediately upon completion of the galvanizing process.
Check out our time-lapse video of this 14-day project.
Can high strength bolts be hot-dip galvanized?
The short answer is that some high strength bolts can be galvanized, while others cannot. Will the 840-degree molten zinc change the mechanical properties of a high strength bolt during the galvanizing process? Is the potential for hydrogen embrittlement a concern for hot-dip galvanized bolts with a tensile strength greater than 150 ksi? Learn which specifications cannot be galvanized →
Can bolt threads be chased after hot-dip galvanizing?
Thread chasing involves rethreading a bolt after it has been galvanized in order to remove excess zinc. This practice is strictly prohibited under the F2329 specification which covers hot-dip galvanizing of fasteners. Learn the reason chasing threads is prohibited →
What is the expected life span of a hot-dip galvanized bolt?
According to the American Galvanizers Association, assuming a minimum 2.5 mil coating thickness, the minimum lifespan of galvanized steel in an industrial environment should be 45+ years, whereas a rural environment could expect a life span of 80+ years. Learn more about galvanized coating life spans →
Will plain or zinc plated nuts fit on a hot-dip galvanized bolt?
Plain or zinc plated nuts will not work with hot-dip galvanized bolts because they are not tapped oversize to accommodate the zinc coating on the threads of a galvanized bolt. The ASTM A563 specification covering nuts outlines the proper amount of oversizing required for a galvanized nut. Learn more about overtapping allowances →
More galvanizing-related FAQs →
Biobio Region, Chile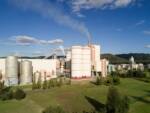 ARAUCO's Pulp Mill in the Biobio region of Chile is undergoing a major pulp production expansion. It is one of the largest pulp investments in the world. ARAUCO is a global forest products company operating 42 sawmills in North America, South America, Europe, and South Africa.
Portland Bolt has currently supplied over 122,000 pounds of hot-dip galvanized ASTM F1554 anchor rods for this ongoing project which began in June of 2019.