Although we manufacture a wide range of construction and OEM fasteners in addition to distributing standard bolts, nuts, and washers, our specialty is cast-in-place anchor bolts.
In recent years, the construction industry has seen a trend away from bent anchor bolts and toward headed anchor bolts. Although we manufacture and stock both varieties, our ability to hot-forge heads onto bolts separates us from many other manufacturers that don't possess forging capabilities. We believe we are the only fastener supplier in the country to keep an extensive line of headed anchor bolts in stock and available for immediate shipment. However, the most common form of anchors are straight fully threaded rods or rods with threaded ends which are custom manufactured, and galvanized when necessary, in our 94,000-square-foot facility.
Need anchor bolts for your next project? Contact the specialists at Portland Bolt!
Torque Charts for Anchor Bolts
Do torque charts for tensioning fasteners apply to anchor bolts?
The short answer is that torque charts are not applicable for tightening the nuts on anchor bolts. To learn the reason why the normal effort of an ironworker with a regular spud wrench is all that is required, visit our Torque Charts and Anchor Bolts FAQ available at www.portlandbolt.com.
Missoula, MT & Careywood, ID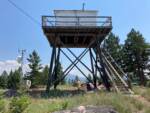 Lookout towers were once used as the first line of defense against forest fires. Today, these towers have been replaced with drones, cameras, and satellites. Many forest services are refurbishing and repurposing these lookout towers for adventurous campers.
Initially built in 1933, the Double Arrow Lookout Tower, located in Missoula, MT, stands 20′ tall and measures 14′ square. The refurbishment of the structure included domestic galvanized square head machine bolts to match the original fasteners.
The Tahoma Lookout Tower, located in Careywood, ID, stands 27′ tall. Rebuilding the support structure involved 3/4″ diameter hot-dip galvanized hex bolts ranging in length from 8″ – 15″. Split ring timber connectors were also used to increase the shear strength of the connections. These 4″ diameter rings are installed using a special grooving tool and ultimately reduce the number of bolts required for the connections.
Kyle began working at Portland Bolt in early 2006. Majoring in Finance, Kyle graduated from college in 2005 and moved up from McMinnville to Portland, Oregon, and has been loving life in the Rose City ever since. Kyle works in many different industries, including heavy civil construction, precast concrete, and wood construction, to name a few. Kyle enjoys music, working on his house, being a sports fan, and the company of his family and friends. Kyle is married and lives in Portland with his wife, son, and daughter. Learn more about anchor sleeves on his educational website www.anchorboltsleeves.com.
Education: Linfield College – McMinnville, Oregon
BS – Finance, Minors in History, Religion
Hometown: Sherwood, Oregon
Movies: Yojimbo, The Big Lebowski, The Departed
Sports: The Portland Trail Blazers, the Oregon Ducks, and the Timbers
Favorite Foods: Thai, Cuban, Sushi
Thank you to the 273 participants in the 2022 March Madness Bracket Challenge. This year's champion was Adam (FreeUkraine!!!) followed by Dave (Skee) who finished as the runner-up.
Come back in September for our 16th Annual NFL Survivor Pool with cash and prizes worth more than $900.