Street lighting poles are anchored to concrete foundations using large, galvanized anchor bolts. Many of these projects are federally funded, requiring the anchor bolts, nuts, washers, and plates to be 100% domestically manufactured.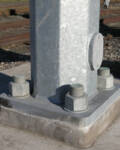 Kailey Tillman has created Portland Bolt's newest microsite, www.lightpoleanchorbolts.com. This website provides technical information regarding the application, configuration, specifications, and hot-dip galvanized coating required for these specialized anchor bolts.
Portland Bolt's 85,000 square foot manufacturing facility is designed to produce domestic light pole anchor bolts with short lead times and outstanding quality.  Does your project require galvanized anchor bolts for lighting poles? If so, call Kailey or one of our other experienced estimators.
www.lightpoleanchorbolts.com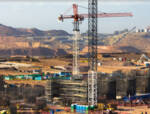 Peru, South America
In late 2013, Portland Bolt manufactured and shipped more than 200,000 pounds of large, anchor bolts for a large-scale concentrator mining project in Peru.
Read more →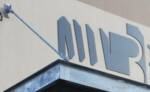 How do tie rods attach to a structure?

Tie rods are attached by sliding a gusset plate, which is fastened to the structure, in between the ears of the clevis. A clevis pin, or A325 structural bolt, is then assembled through the pin holes on the clevis and through the hole in the plate. Learn more →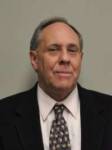 1946 – 1985
With a heavy heart we must share the news of the passing of our friend and colleague, John Wunderlich. He will be greatly missed from our Portland Bolt family and we consider ourselves blessed to have worked alongside him for nearly 30 years.
Please feel free to leave messages for the family or memories of John as we all work to process this loss. Visit memorial page →

Congratulations to Kevin A. from Concord, California for his first place finish in our 8th annual March Madness Bracket Challenge! Kevin won a $150 Amazon gift card, an engraved trophy, and a Portland Bolt regulation basketball. Jack T. from Waukesha, Wisconsin earned a $50 gift card and a basketball for his runner-up finish. Stay tuned for our annual NFL Survivor Pool returning in early September.