Does Portland Bolt manufacture 1-3/4" diameter A325 heavy hex bolts?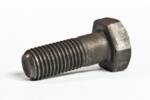 No. As a matter of fact, nobody does. The ASTM F3125 grade A325 specification clearly denotes the diameter range of this grade of fastener to be ½" through 1-1/2" inclusive. Therefore, an A325 bolt larger than 1-1/2" diameter simply does not exist. It cannot be manufactured because there are no dimensional or strength requirements for A325 bolts this large in diameter. ASTM recommends specifying ASTM A449 or ASTM A354 which have similar mechanical properties, but cover larger diameters. Other grades of fasteners that have a maximum diameter of 1-1/2" are ASTM A490 and SAE J429 grades 2, 5, and 8. It is a common occurrence to see all of these grades of bolts mistakenly specified in sizes larger than 1-1/2" diameter.
If you are working on a project and are faced with this situation, ask your customer to clarify the specification or have the engineer specify a grade of bolt that is available in larger diameters. Proceed cautiously with fastener distributors or manufacturers who claim to provide fasteners outside specified strength or diameters ranges.
Written ,