What is the correct way to refer to a lag, screw or bolt?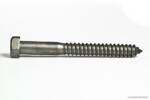 Although these terms are used interchangeably, lags should technically be referred to as a screw and not as a bolt.
A bolt is a fastener with machine thread that can accept a nut. A bolt is properly assembled and tightened by rotating the nut. A screw, on the other hand, is a fastener that is properly installed by rotating the head of the fastener. Since lags are not used with a nut and installed by turning the head of the fastener, the proper technical term would be "lag screw". Lag screws can be provided with either a hex or square head.
A bolt is available with many different thread types, Unified National Coarse, Unified National Fine, 8 Unified National, Acme, and Metric. Both machine bolts and lag screws are made to the requirements of ASME B18.2.1. Lag screws are almost always used in wood applications.
Written ,