What is an intergranular corrosion test?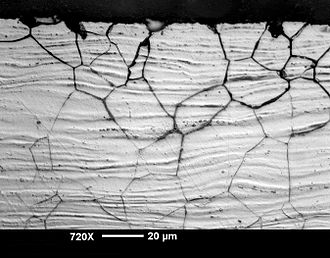 In order to answer this question, we must first define what intergranular corrosion is. It is a type of corrosion where the grain boundaries of crystallites in austenitic steel are more susceptible to corrosion than the inside of the material. Grain boundaries can become depleted during the manufacturing of stainless steel round bar, the hot forging of heads on bolts, or the hot bending of anchor bolts, U-bolts, or eye bolts.
In order to restore the stainless steel to its fully corrosion-resistant state, certain stainless steel bolts and round bar must undergo a heat-treating process called solution annealing, also referred to as carbide solution treatment.
In the stainless ASTM F593 specification, all stainless fasteners under alloy groups 1, 2, and 3 are required to undergo an intergranular corrosion test to make sure the bolts will not be susceptible to corrosion.
A quick summary of ASTM F593 8.1.1 and 8.1.2 states:
Rod, bar and wire in the austenitic Alloy Groups 1, 2, and 3, used to make fasteners in accordance with this specification shall be capable of passing the test for susceptibility to intergranular corrosion as specified in Practice E of Practices A262.

As stated in Practice A262, samples may be subjected to the faster and more severe screening test in accordance with Practice A. Failing Practice A, specimens shall be tested in accordance with Practice E and be considered satisfactory if passing Practice E.
The two types of tests that are required are Practice A and Practice E. As stated above, if the samples pass Practice A, a Practice E test would not be required. Practice E would only be required if the samples failed the initial Practice A test.
ASTM A262, Practice A is an "Oxalic Acid Test" which is a fast, usually same-day testing technique that screens samples of the bolts to ensure they are not susceptible to intergranular corrosion. This test is usually performed before a Practice E test due to the fact that it is a fast screening that is sufficient for approval of the materials. However, if the bolts fail this test, a Practice E test would be required.
ASTM A262 Practice E is a Strauss Test which requires the samples to be boiled in a Cu-Copper Sulfate mixture for 15 hours and then bent 180 degrees over an equal diameter bend. This test uses visual inspection of the bent surface to determine a pass or fail. The samples are examined at low magnification to search for cracks or fissures which could cause intergranular corrosion.
Written ,