What grade are Portland Bolt's Clevises and Turnbuckles?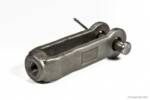 For most tie rod assemblies that Portland Bolt provides, the clevises would be forged per ASTM A668 Class A, while the turnbuckles would be manufactured per ASTM F1145 class B. ASTM A668 is a general forging specification whereas F1145 covers turnbuckles specifically.
If higher strength clevises are required to develop the strength of high strength rods, clevises can be heat treated all the way through ASTM A668 Class F. If higher strength turnbuckles are required, sleeve nuts, in lieu of turnbuckles, should be considered. Sleeve nuts are available in many grades, but most high strength applications will use either ASTM A563 Grade DH or A194 Grade 2H.
Not sure what you need for your project? Give one of our experienced estimators a call and we'll be happy to help.
Written ,