Video FAQs


How often does Portland Bolt ship to Alaska?
Transcript Hello, my name is Amanda Seal. I work as an inside sales/estimator at Portland Bolt and manufacturing. I've been working with the company since October 2014, although we have over 100 years combined industry experience working in the sales office. Before I came to Portland Bolt, I lived and grew up here in Alaska. Here... Read more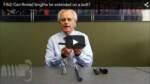 Can Portland Bolt add more thread to our existing bolts?
Basically, there are 3 different configurations of threads: Full-body cut thread Reduced-body rolled threads Full-body rolled threads Full Body Cut Thread Full body cut threads use full size round bar and the threads are cut into the steel. This is a commonly used method, especially on larger diameter products, long length products, and small quantity... Read more