How do I calculate the slope in degrees for a beveled washer?
The slope of a beveled washer or a given segment represents how much the elevation changes over a certain distance. The higher the slope, the more steep the incline or decline. Slope is measured in degrees, ratios and grades. To find the slope in degrees, you need to make use of trigonometry ratios or more simply, a scientific calculator. To find the degree of a slope, you must:
Find the amount of elevation change and the length of the segment. For example, using the beveled washer pictured below, you find that over a 12″ stretch, the elevation increases by 2″.
Divide the change in elevation by the length of the segment. Continuing with the example, you would divide 2″ by 12″ to get 0.166.
Use a scientific calculator to find the arctan which is sometimes written "tan-1" or "arctan" on calculators. This will measure the slope in degrees.
Finishing the example, enter "0.166" push the "tan-1" button and then press equals. The calculator will display 9.46, meaning the measurement of the slope is 9.46 degrees.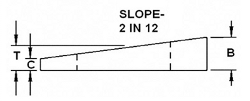 Beveled washers are intended for American Standard beams and channels in structural applications to compensate for lack of parallelism. Portland Bolt carries hardened and beveled washers in plain and galvanized finish ranging in diameters of 1⁄2"-1". Hardened beveled washers are covered under the ASTM specification F436 and are generally used with A325 and A490 structural bolts while malleable beveled washers are to be used with low carbon steel bolts.
Written ,