What is the difference between Grade 5 and A325 bolts?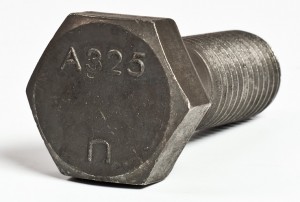 While these two bolts are virtually identical in terms of chemical and physical strengths and properties, there are several differences between the two. The Grade 5 specification falls under the Society of Automotive Engineers (SAE) classification system, while A325 is an ASTM specification. ASTM A325 bolts are more commonly specified by engineers for use in structural steel connections on heavy construction projects, while SAE Grade 5 bolts are more common in OEM-type applications.
Grade 5 bolts are most typically made, and are most readily available in a finished hex bolt configuration. A325 bolts are required to have a heavy hex head. The same thing applies for the compatible nuts. Grade 5 nuts are a finished hex pattern, and A194-2H or A563-DH heavy hex nuts are required for use with A325 bolts.
Another difference is that Grade 5 bolts may be specified from 1/4″ diameter up to and including 1-1/2″ diameter. The A325 specification covers bolts from 1/2″ up to and including 1-1/2″ diameter. For bolts larger than 1-1/2″, ASTM A449 should be specified.
Lastly, the required thread lengths are different. Grade 5 fasteners, like most grades, have a standard thread length of twice the diameter plus 1/4″ for bolt lengths less than or equal to 6″ and twice the diameter plus 1/2″ for bolt lengths 6″ and longer. A325 bolts have specific thread lengths, based on the diameter of the bolt, that are shorter than most other bolt grades.
2015 Update:
With the introduction of the new
F3125 specification
that now governs the A325 specification, alternate head styles and longer thread lengths are allowed, provided the heads are stamped "A325S".
Written ,