Can Portland Bolt manufacture A325 lag screws?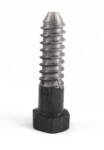 Even with the new F3125 specification that covers A325, Portland Bolt would not manufacture lag screws to F3125 Grade A325. According to section 1.2.1 under Intended Use in ASTM F3125, "Bolts manufactured under this specification are intended for use in structural connections covered in the Specification Joints Using High-Strength Bolts, as approved by the Research Council on Structural Connections." Instead, another ASTM grade of similar strength that does not restrict its application should be considered.
Portland Bolt is capable of manufacturing hex or square lag screws in other grades as well as providing them in a hot-dip galvanized finish. Contact one of our estimators if you would like a quote or if you have any technical questions.
Written ,