What is the difference between ASTM A320 Grade L7 and A320 Grade L7M?
ASTM A320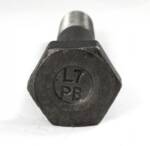 possesses several fastener grades manufactured from either alloy or stainless steel and are intended for cold temperature applications. Both Grade L7 and L7M are manufactured from a quenched and tempered alloy steel. While the chemical requirements for both Grades L7 and L7M are identical, there are several differences that separate the two grades.
| Grade | Yield, ksi, min | Tensile, ksi, min | Tempering temp, F, min | Hardness, max |
| --- | --- | --- | --- | --- |
| L7 | 105 | 125 | 1100 | 321 HB/35 HRC |
| L7M | 80 | 100 | 1150 | 235 HB/99 HRB |
Grade L7 bolts are significantly higher in strength than Grade L7m bolts.  Additionally, it is important to note that a requirement unique to L7M fasteners is that every part needs to undergo a hardness test. The compatible nut for an L7M bolt, ASTM A194 Grade 7M, also requires hardness test of each part. Machining the Grade 7M nuts after heat treating is prohibited.
A320 Grade L7 fasteners require a permanent marking of "L7" on bolt heads and one end of rods, while Grade L7M fasteners are marked "L7M". Compatible nuts for both grades that have been impact tested are marked with the letter "L".
If you have any additional questions or need a quote, please contact our team and we will be more than happy to assist you.
Written ,