Tag Archives: thread pitch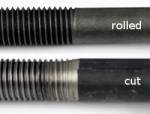 Do Bolts with Rolled Threads have a Full Body Diameter or a Reduced Body Diameter?
When threading bolts, the two most commonly used methods are cut threading and roll threading. We are often asked if bolts which have been roll threaded have a full body diameter or a reduced body diameter. Depending on the type of fastener, the answer is both. When Portland Bolt produces bolts with rolled threads, we... Read more
Why won't Portland Bolt manufacture galvanized bolts above 1-1/2" diameter with 8 TPI thread?
Our two main concerns with providing galvanized bolts larger than 1-1/2" diameter with 8 threads per inch is the lack of overtap allowance standards for the mating nut and the potential for premature thread stripping due to the nut oversizing. Overtap Allowances All inch series hot dip galvanized hex nuts, regardless of grade, are tapped... Read more
What is the Unified National Coarse thread pitch for a 1-5/8" diameter bolt?
Currently, the American Society of Mechanical Engineers (ASME) specification B 1.1 does not define a "standard" Unified National Coarse (UNC) thread pitch for 1-5/8" diameter bolts (or 1-7/8" for that matter). The "pseudo standard" coarse thread that is often used in the industry is 5-1/2 threads per inch. The 8UN (eight threads per inch) series... Read more

What are my thread pitch options when ordering bolts?
There are several different thread series available for construction fasteners. Below are the three of the most common thread series utilized in the fastener industry.  Coarse Thread Series Unified National Coarse (UNC) – Coarse threads have fewer threads per axial distance than fine threads and a larger thread form relative to the diameter. Coarse thread... Read more