Tag Archives: tapped oversize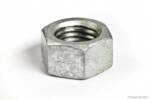 Since the threads inside of a hot-dip galvanized nut are bare metal, will they corrode?
The short answer to this question is no. However, there are many variables with regard to the protective coating that prevents the internal threads of a galvanized nut from corroding. In this FAQ, we will explore some of the variables brought about by this question. One of the first issues to address is the question... Read more
Can threads be chased after hot-dip galvanizing for proper nut fit?
Absolutely not! Externally threaded fasteners should never be "chased". During the hot-dip galvanizing process, excess zinc has a tendency to build up in the threaded portion of a fastener. Chasing threads is a term used to describe re-cutting threads after galvanizing to remove this excess zinc that has accumulated during the galvanizing process. Chasing threads... Read more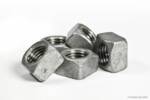 Can I use black (plain finish) or zinc plated nuts on galvanized bolts?
No. Hot-dip galvanized nuts need to be used with hot-dip galvanized bolts since galvanized nuts are tapped oversize to accommodate for the extra 2 – 6 mils (.002 – .006) of zinc that is added to the threads of the bolt during the galvanizing process. A common misconception is that bolts that are going to... Read more