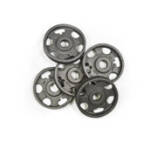 What ASTM Specification covers castings?
There are several ASTM specs which cover castings, including A47, A48, A536, and A668. ASTM A47 A47 covers malleable castings intended for general use up to temperatures around 750⁰ Fahrenheit.  A47 castings come in one grade, available in metric and imperial. Common forgings specified to A47: Shear Plates, Beveled Washers ASTM A48 A48 covers gray... Read more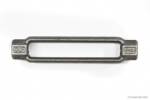 When designing vertical rod bracing system I would like to use F1554 grade 55 rod to achieve smaller diameters. But if I use a turnbuckle I am limited to the safe working load of that turnbuckle. Is there a higher capacity turnbuckle available?
You are correct that your capacity would be limited by the safe working load of the turnbuckle, but it would be limited to that regardless of the grade of steel used for the bracing rod. Let's assume you are using mild steel, A307/A36 rods. The minimum yield strength of that material is 36,000 psi. Using... Read more
What information do I need to provide when ordering tie rods or requesting a quotation to ensure that I receive the correct product?
Tie rod assemblies can be very complicated and confusing to someone who does not deal with them on a routine basis. If you are not experienced in dealing with tie rod assemblies, you may not understand all of the necessary information that is required to ensure that you receive the proper components for the tie... Read more
Does Portland Bolt sell clevises and turnbuckles?
Portland Bolt supplies tie-rod assemblies with clevises and turnbuckles on a regular basis. However, in most instances, we do not provide the clevises and turnbuckles unless we are manufacturing the rods. There are a couple of key reasons for this. Probably the most important reason is that when we provide all the components of the... Read more
How are tie rods, turnbuckles, and clevises configured?
Tie rods, clevises, and turnbuckles are an important part of many architectural designs. Canopy supports, structural steel bracing, and walkway hangers are a few of the applications that use these assemblies. The unique configuration allows for field adjustments in both length and tension. Adjustment Adjustments are possible by threading opposing ends of the rod right hand... Read more