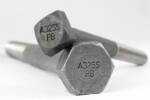 Is There a Difference Between ASTM A490 and ASTM A325 Bolts?
The short answer is that A490 heavy hex structural bolts have higher strength requirements than A325 heavy hex structural bolts. A325 bolts have a minimum tensile strength of 120ksi while A490 bolts have a tensile strength range of 150-173ksi. In addition, there are a few other differences shown below. Coatings A325 structural bolts can be... Read more
Are ASTM A490 anchor bolts available?
No. Just like in the case of anchor bolts being specified as A325, supplying anchor bolts as ASTM A490 is technically something that should be avoided. This is because the A490 specification is intended to cover heavy hex head bolts for structural steel connections only. This is mentioned in several places within the A490 specification.... Read more
Can I order A490 Heavy Hex Structural Bolts larger than 1-1/2" diameter?
According to ASTM A490-11, the answer is no. The A490 specification only covers diameters from 1/2″ to 1-1/2″, inclusive. An A490 bolt cannot be made above 1-1/2″ diameter; ASTM does not allow it. Since there are no chemical requirements, hardness requirements, or strength requirements for A490 fasteners above 1-1/2″ diameter, no manufacturer would be able... Read more
Does the ASTM Require a Rotational Capacity Test for A490 Structural Bolts?
No, ASTM does not require a rotational capacity test for A490 structural bolts. The reason for this is that the purpose of the rotational capacity test per ASTM is to evaluate the presence and efficiency of the lubricant used in a bolt and nut combination. Lubrication is used with galvanized bolts since there is additional... Read more
Is stacking of F436 washers acceptable with an A325 bolted connection?
Yes, in some cases the stacking of F436 washers seems to be allowed, but not in all cases. The Research Council on Structural Connections (RCSC) in Specification for Structural Joints Using High-Strength Bolts, December 31, 2009, page 16.2-12 says, "If necessary, the next increment of bolt length can be specified with ASTM F436 washers in... Read more
Are washers required to be used with an A325 or A490 structural bolt?
It is known that the required grade of washer to be used with an A325 or A490 structural bolt is an ASTM F436 hardened washer, however whether or not a washer is required to be used in a given application is often brought into question. The purpose of using a flat washer with a bolt... Read more