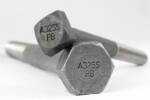 Is There a Difference Between ASTM A490 and ASTM A325 Bolts?
The short answer is that A490 heavy hex structural bolts have higher strength requirements than A325 heavy hex structural bolts. A325 bolts have a minimum tensile strength of 120ksi while A490 bolts have a tensile strength range of 150-173ksi. In addition, there are a few other differences shown below. Coatings A325 structural bolts can be... Read more
Can Portland Bolt manufacture A325 countersunk bolts?
The short answer is, yes! In 2015, ASTM created F3125 which is a new, all-inclusive specification for structural bolts that consolidated and replaced the following six stand-alone ASTM standards: A325, A325M, A490, A490M, F1852 and F2280. Under the new F3125 specification, A325 fasteners can be made in head styles other than heavy hex as long... Read more
Do A325X bolts have a special marking on the head that would differentiate them from a standard A325?
The "X" designates the connection type (bearing-type connection with threads excluded from the shear plane) and has nothing to do with the bolt itself. Therefore, an A325 structural bolt used in this type of connection will have no different markings than an A325 bolt used in a different type of connection (N or SC). All A325... Read more
Is stacking of F436 washers acceptable with an A325 bolted connection?
Yes, in some cases the stacking of F436 washers seems to be allowed, but not in all cases. The Research Council on Structural Connections (RCSC) in Specification for Structural Joints Using High-Strength Bolts, December 31, 2009, page 16.2-12 says, "If necessary, the next increment of bolt length can be specified with ASTM F436 washers in... Read more
Are washers required to be used with an A325 or A490 structural bolt?
It is known that the required grade of washer to be used with an A325 or A490 structural bolt is an ASTM F436 hardened washer, however whether or not a washer is required to be used in a given application is often brought into question. The purpose of using a flat washer with a bolt... Read more
Can Portland Bolt manufacture a 1" x 6" fully threaded A325 heavy hex structural bolt?
Bolts manufactured to the ASTM A325 specification have a fixed thread length for a given diameter, which is often shorter than other grades of bolts. For example, a 3/4″ diameter A325 has 1-3/8″ of thread and a 1″ A325 has 1-3/4″ of thread, regardless of the overall length of the bolt. Our structural bolts product... Read more
My company is looking to purchase A325SC, A325N, and A325X heavy hex structural bolts. What is the difference between these three?
There is no difference between these bolts. The "X", "SC", and "N" simply identify the type of connection the bolts are used in. "X" and "N" are bearing type connections, where the bolts are being used in shear. "X" means these particular A325 heavy hex structural bolts will be used in a bearing type connection... Read more
I have two items that use 1" bolts, one is ASTM A325 and the other is ASTM A449, I would like to just use one. Which is the one that meets or exceeds the other?
These bolts are identical with regard to strength and chemistry. There are very minor differences in the hardness requirements, but the proof load, tensile, and yield strength requirements are the same. From a manufacturing standpoint, we make these bolts using the same raw material and the same heat treating and production methods. Our strength by... Read more
What is rotational capacity (ROCAP) testing?
Per ASTM F3125 Annex section 2.1.1, the rotational capacity test is defined as a test, "intended to evaluate the presence of a lubricant, the efficiency of lubricant and the compatibility of assemblies." In a 1970 study referenced by the Research Council on Structural Connections (RCSC), it was shown that galvanizing increases the friction between the... Read more
Is a Grade 8 bolt the same as an ASTM A325?
ASTM A325 and SAE J429 grade 8 are not the same fastener. As a matter of fact, they couldn't be more different. SAE (Society of Automotive Engineers) establishes specifications covering fasteners intended for use in automotive, OEM, and equipment applications, while ASTM (American Society for Testing and Materials) provides specifications for construction fasteners. There are... Read more