What grades of nuts are weldable?
There are many grades of nuts available in the marketplace, from your "run of the mill" nuts like you'd find at a hardware store, to specialized high strength structural nuts. These nuts are made from different materials and get their strength in different ways. Low strength nuts are made from a variety of materials and... Read more
Can an A563 Grade DH high strength heavy hex nut be substituted for a lower strength A563 Grade A hex nut?
Yes. According to ASTM A563, the specification covering carbon and alloy steel nuts, the supplier may supply any higher strength nut at anytime, but the supplier must give notice to the purchaser that the substitution is being made. The supplier cannot supply a nut that is prohibited by the inquiry and resulting purchase order. "1.2... Read more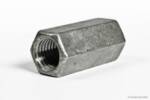 What grade of coupling nut should I use?
A common question that we encounter has to do with what type of coupling nut should be used in conjunction with a particular grade of bolt or rod. Typically, a coupling nut would be specified as a grade of nut, as opposed to a grade of bolt. The ASTM grade of hex nut that is... Read more
Can an A194 grade 2H nut be substituted for an A563 grade DH nut? If so, does it work the other way around... Can an A563 grade DH nut be substituted for an A194 grade 2H nut?
Both ASTM A194 Grade 2H nuts and ASTM A563 grade DH nuts are high strength nuts that undergo a heat treating process required to develop their strength characteristics. However, they are not necessarily interchangeable. An A194 Grade 2H nut can always be substituted for an A563 Grade DH nut. In fact, the ASTM A563 nut... Read more