Category Archives: Galvanizing Bolts
Can all three grades of F1554 anchor bolts be galvanized?
The answer to this question is yes! All three grades within the ASTM F1554 specification, Grade 36, Grade 55, and Grade 105, can be either hot-dip galvanized or mechanically galvanized.  The issues of hydrogen embrittlement and/or mechanical properties being alerted during galvanizing are not an issue with any of these three grades.  In Section 7... Read more
Can I mechanically galvanize fasteners that are very long in length?
Mechanical galvanizing (ASTM B695) is a process in which fasteners are tumbled in a barrel with a mixture of water, zinc powder, other chemicals, and glass impact beads. As the parts are tumbled in the slurry, the zinc is "cold welded" to the fasteners. While some mechanical galvanizers can process parts that over a foot... Read more
How does hot-dip galvanizing differ from electrogalvanizing?
Hot-dip galvanizing is a process of applying a protective zinc coating by dipping product in bath of molten zinc. Galvanizing is a favored method of protective coating due to its low cost, ease of application, and long maintenance-free service life. Generally applied at 830 to 870 degrees, the zinc will bond with the steel. It... Read more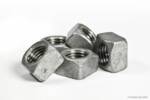 Can I use a hot-dip galvanized nut on a plain finish bolt?
Hot-dip galvanized nuts cannot be used on a plain finish bolt. Hot-dip galvanizing adds between 2 – 6 mils (.002" – .006") of zinc to the threads of the bolt and due to this increased thread thickness, hot-dip galvanized nuts are tapped oversize to accommodate and create a workable fit. These oversized internal threads on... Read more
Can high strength bolts be hot-dip galvanized?
Some high strength bolts can be galvanized while others cannot. In the construction fastener industry, typically the phrase "high strength" refers to bolts that have been quenched and tempered (heat treated) to develop the proper strength requirements of a given specification. In many cases, low alloy steels like ASTM A572g50 or F1554g55 are called "high... Read more
Are current ASTM galvanizing standards suitable for use with the new chemicals being used in pressure treated wood? Some people have told me I need to use double or triple dipped fasteners. Is this true?
Since the new chemicals (alkaline copper quat [ACQ], copper azole [CBA-A and CA-B], and sodium borates [SBX]) now being used in pressure treated wood have been shown to be up to two or three times more corrosive than the previously used chromate copper arsenate (CCA), the recommended galvanizing thickness for materials being used with the... Read more
Can threads be chased after hot-dip galvanizing for proper nut fit?
Absolutely not! Externally threaded fasteners should never be "chased". During the hot-dip galvanizing process, excess zinc has a tendency to build up in the threaded portion of a fastener. Chasing threads is a term used to describe re-cutting threads after galvanizing to remove this excess zinc that has accumulated during the galvanizing process. Chasing threads... Read more
How much weight is gained from hot-dip galvanizing bolts?
According to the American Galvanizers Association (AGA) the weight of an item on average will increase about 3.5% from the zinc added during the galvanizing process. However, the AGA goes on to say, "…that figure can vary greatly based on numerous factors. The fabrication's shape, size, and steel chemistry all play a major role, and... Read more
What corrosion-resistant coatings are available for high-strength (over 150 ksi) bolts?
Due to hydrogen embrittlement concerns ASTM recommends against hot-dip galvanizing , mechanical deposition, or electroplating with zinc or other metallic coatings on high strength bolts ultimate tensile strengths that exceed 150 ksi. So what are the alternatives to provide corrosion resistance for A490 structural bolts? Protective Coatings ASTM states that if a protective coating is... Read more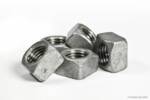 Can I use black (plain finish) or zinc plated nuts on galvanized bolts?
No. Hot-dip galvanized nuts need to be used with hot-dip galvanized bolts since galvanized nuts are tapped oversize to accommodate for the extra 2 – 6 mils (.002 – .006) of zinc that is added to the threads of the bolt during the galvanizing process. A common misconception is that bolts that are going to... Read more