Category Archives: Certification and Testing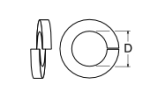 Are lock washers available in different strengths and what ASTM specification(s) cover them?
The term "lock washer" can include a huge variety of different products used in many different applications that often are very specific and can include many different grades, materials and purposes. When our customers refer to a lock washer, we assume they are referencing a "split lock washer" that is a generic lock washer that... Read more
What standards organizations and specifying committees cover the types of bolts and fasteners Portland Bolt manufactures?
Portland Bolt manufactures a wide range of bolts and fasteners to numerous standards set by many different organizations and specifying committees. There are many different organizations for fasteners, all of which have their own set of standards and guidelines for manufacturing. We, as estimators, are often asked what the acronyms for such organizations and committees... Read more
Why Are A194 Grade 7 Nuts Not Recommended With High Strength Bolts?
I have noticed in specifications from multiple organizations that ASTM A193 Grade B7 bolts are selected along with ASTM A194 Grade 2H nuts. I know that from ASME B16.5 Flanges and Flanged Fittings, the recommended high strength bolt is ASTM A193 Grade B7. However I cannot find in ASTM A193, A194, ASME B16.5, B18.2.1, B18.2.2, B31.1... Read more
What are the marking requirements for A449 bolts?
The ASTM A449 specification is somewhat ambiguous when it comes to the marking requirements. While the requirements are perfectly clear for hex bolts and studs, the verbiage doesn't address head styles other than hex head, other bolt configurations such as U-bolts, or rods with threads on each end. ASTM A449, Section 16.1, Manufacturers Identification reads as follows:... Read more
What does yield, tensile, reduction of area, proof load, hardness, elongation, and shear mean in the context of fastener strength?
The following terms are measurements of strength that are commonly used in the fastener industry. All ASTM and SAE graded fasteners possess requirements for some or all of these strength characteristics. Our Strength Requirements by Grade Chart will provide a list of these strength requirements for each specification. Yield The yield strength or yield point of... Read more
Do ASTM F844 standard flat washers come with certification documents?
Commercially available ASTM F844 washers are typically not accompanied by certification documents, even though the F844 washers supplied by Portland Bolt are domestically manufactured. The reason mill test reports are not available for F844 washers is that there are no specific chemical or mechanical (strength, hardness) requirements for these washers. The only requirement is that they need... Read more
Does the ASTM Require a Rotational Capacity Test for A490 Structural Bolts?
No, ASTM does not require a rotational capacity test for A490 structural bolts. The reason for this is that the purpose of the rotational capacity test per ASTM is to evaluate the presence and efficiency of the lubricant used in a bolt and nut combination. Lubrication is used with galvanized bolts since there is additional... Read more
Can I get a copy of the Certification documents before I place my order?
This question comes up with some regularity at Portland Bolt and by necessity the answer is no. We are happy to provide sample certifications to you so that you may get a general idea of what your certifications will look like when you receive them with your order. However, beyond the sample certifications we cannot... Read more

Will imported A307 grade A hex bolts meet the requirements of F1554 grade 36?
Anchor bolts which are embedded in concrete and used for structural anchorage purposes can assume several forms. Common forms of anchor bolts include right angle bend anchor bolts, swedged rods, and threaded rods (typically with a nut and/or square plate attached to the bottom of the rod). Another common configuration for an anchor bolt is... Read more
My plans call for an A307 grade C anchor bolt and my supplier is offering F1554 grade 55 anchor bolts as a substitution. Is this acceptable?
Theoretically, this substitution makes sense. However, one should always check with the project engineer before making any alterations to the grade or configuration of product that has been specified for the structure. Please note that for liability reasons, Portland Bolt is not recommending that this substitution be made without appropriate approval. The A307 grade A... Read more
Do your products have a UL Listing or ICC-ES report available?
No. The products manufactured by Portland Bolt do not fall under the umbrella of products that would require a UL listing or ICC-ES report. There are three main governing bodies that cover specifications for fasteners. ASTM (American Society for Testing and Materials) covers primarily bolts and fasteners for construction applications. SAE (Society of Automotive Engineers)... Read more