Portland Bolt's 16th annual NFL Survivor Pool is open for entry. Join for free, and compete for your chance to win Amazon gift cards and awesome Portland Bolt gear! Over $850 in cash and prizes is up for grabs!
The rules are simple. Pick one NFL team each week to win their game, and survive to play another week. A single incorrect pick will eliminate you from the competition, so choose wisely.
Prizes include:
First place: $250 Amazon gift card, engraved trophy, Portland Bolt 64 oz growler, Portland Bolt polo shirt
2nd Place: $100 Amazon gift card, Portland Bolt stainless pint glass, Portland Bolt polo shirt
3rd Place: $50 Amazon gift card, Portland Bolt stainless pint glass, Portland Bolt polo shirt
Three random participants will also win a Portland Bolt prize pack including:
Portland Bolt polo shirt
Portland Bolt baseball cap
Get your pick in by Sunday, September 11th at 1:00 pm ET. If you want to pick an early week game, you must do so by kickoff. Have fun, and good luck!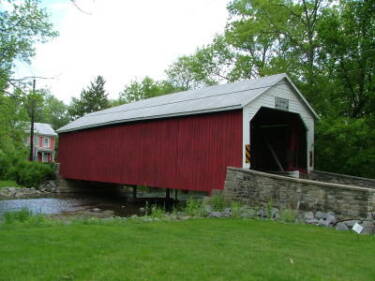 Mifflinburg, PA
The Hassenplug Covered Bridge in Mifflinburg, PA, is one of the two oldest covered bridges in America open to the public. It was originally built in 1825 in a Burr arch-truss style and spans a length of almost 70 feet. In June of 2021, a $755,000 project was approved to rehabilitate the existing bridge.
The project required different types of headed bolts including timber bolts, hex bolts, and lag screws. Malleable iron washers and custom templates were also required. Split rings were used to reinforce the timber connections.
Custom tie-rod assemblies, measuring 20' in length, spanned across the bridge for additional structural support.
What information do I need to provide to ensure I receive the correct fasteners?
Many of our customers do not order bolts frequently enough to understand all the information we require to provide an accurate quote. We don't expect you to be bolt experts, but you certainly expect us to be. Therefore, our highly-skilled salespeople will ask all the right questions to ensure that no detail is overlooked. If you don't have all the answers, we will help you figure out how to obtain the information.
Below is a list of the questions we will ask and the information we will need in order to provide an accurate quote:
What is the quantity?
What are the dimensions?
Plain, hot-dip galvanized, or another finish?
What ASTM or SAE grade?
What type of product (configuration)?
What is the thread length?
Are nuts, washers, or other accessories required?
Are there domestic requirements?
How quickly do you need delivery?
How quickly do you need your price quote back?
Should we include the cost of freight?
Would this be a taxable purchase?
For a detailed explanation about the importance of the above information and how the answer to each question will affect price and delivery, read more →
Brevan came to Portland Bolt in July of 2022. Born and raised on Cape Cod, Massachusetts, he recently moved to Portland after living in Jackson Hole, Wyoming. Brevan graduated from Oregon State University where he majored in Business Administration. Always on the move, Brevan likes to travel often with his wife, Hannah, and their two children. He loves golfing, swimming, basketball, and watching any Bruins, Patriots, Red Sox, and Celtics games. As a former bagel shop owner, Brevan still likes to bake and will bust out homemade bagels every now and then but cakes are his specialty.
Education: Oregon State University – Corvallis, Oregon
Bachelor of Science – Business Administration
Hometown: Bourne, Massachusetts
Movies: Shawshank Redemption, Gladiator, Big Lebowski, Lord of the Rings
Music:  Rush, Radiohead, Young the Giant, Phish, The Smiths
Hobbies: Traveling, baking, Xbox, reading, gardening, Catan, fishing
Sports: Golf, swimming, basketball, softball, snowboarding