More threading options means faster delivery!
With three roll threaders and fourteen cut threaders, Portland Bolt can thread fasteners for all kinds of projects. Our experienced operators ensure you are delivered quality threaded product that won't gall or resist a nut, even after galvanizing. Over a century of threading fasteners has resulted in two efficient and cost-effective threading methods capable of handling steel up to 6" in diameter.
Roll Threading (through 1" diameter)
Roll threading is an extrusion process in which steel round bar is forced between two dies to form the threaded portion of a fastener, instead of being removed as in cut threading.
Cut Threading (through 6" diameter)
Cut threading is a process by which steel is cut away from a round bar of steel to form the threads. This process is more labor-intensive than roll threading but provides more flexibility with regard to longer thread lengths and larger diameters.
What information do I need to provide when ordering bolts or requesting a quotation to ensure that I receive the correct products?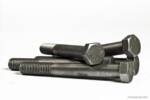 Have you ever gone to order bolts and haven't known what information you needed to provide to ensure you receive the correct fasteners? Relax, because you're not alone. If you don't deal with fasteners daily, you may not understand all of the necessary information you need to provide to ensure that you receive the correct bolts. The good news is that Portland Bolt's experienced salespeople are trained to ask all of the questions necessary to ensure you receive the correct materials.
Below is a 13-item list of information to provide and if you follow the link you will receive a detailed explanation as to how each factor affects the price and lead time.
Quantity
Dimensions
Finish
Grade
Configuration
See the remaining 8 items of the list →
Raleigh, North Carolina
The Stewart Theatre is located on the North Carolina State Central Campus in Raleigh, NC. Situated on the second floor of the Talley Student Union building, the theatre holds 759 after its recent remodeling. The theatre is home to student organizations and campus groups.
Portland Bolt was called upon to provide our expertise and assistance to the engineer and architect, providing valuable information on what is available and economical while keeping aesthetics in mind. After using our Tie Rod Length Calculator to determine the rod lengths, we ended up providing 2½"  diameter A449 tie rods and #7 clevises, with the longest of these assemblies measuring over 24 feet in length.