Are you ready for some Football?
Portland Bolt's 12th annual NFL Survivor Pool is up and running. Join for free, and compete for your chance to win Amazon gift cards and cool Portland Bolt gear! Over $600 in cash and prizes is up for grabs.
The rules are simple. Pick one NFL team each week to win their game and survive to play another week. A single incorrect pick will eliminate you from the competition, so choose wisely.
This year's prizes include:
First place: $250 Amazon gift card, engraved trophy, a PB Carhartt work jacket, and a PB tape measure.
Runner-up: $100 Amazon gift card, a PB Polo, and a PB tape measure.
Third place: $50 Amazon gift card, a PB Polo, and a PB tape measure.
Three random participants will also win a Portland Bolt prize pack including:
A Portland Bolt long sleeve t-shirt
A Portland Bolt tape measure
A Portland Bolt baseball cap
Get your pick in by Sunday at 1:00 pm ET. If you want to pick an early game you must do so by kickoff. Have fun and good luck!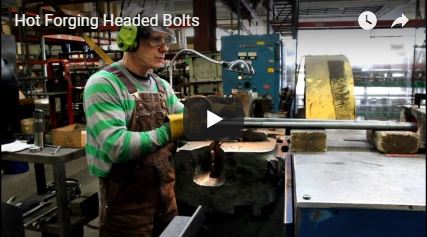 One of the primary differences between Portland Bolt and many other fastener manufacturers in North America is our ability to make bolts with forged heads. Many other manufacturing companies are limited to only producing threaded rods and bent bolts.
Our six National Upsetters have the ability to forge a variety of different head styles ranging in diameter from ½" – 2½". When your project calls for nonstandard headed bolts, Portland Bolt is able to manufacture the exact headed bolt the engineer designed for the project. We also stock a complete line of headed anchor bolts in diameters ranging from ½" – 1″.
Contrary to popular belief, a rod with a welded nut may not function the same as a bolt with a forged head. If you allow a sales representative to convince you this substitution is an acceptable alternative without authorization from the Engineer of Record, you may be exposing yourself and your company to a tremendous amount of liability.
What's the difference?
In the fastener industry, there are two different types of fastener companies… distributors and manufacturers. On one end of the spectrum are companies that specialize in manufacturing nonstandard fasteners that are not readily available in the marketplace. On the other end of the spectrum are fastener distributors that buy and resell imported and mass-produced bolts and screws.
Most companies are a hybrid of the two extremes. For example, Portland Bolt is primarily a nonstandard anchor bolt and construction fastener manufacturer but also distributes mass-produced nuts, washers, structural bolts, hex bolts, and other commonly-used construction fasteners.
Follow this link to learn why it is important to know whether your bolt supplier is a manufacturer or distributor and the benefits of working directly with a manufacturer when buying nonstandard construction fasteners.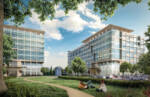 It's no secret that construction in Silicon Valley is flourishing. Sunnyvale, California was the location for the Moffett Towers II project, which is scheduled to be complete in the summer of 2019. Located at the former Lockheed Martin facility, the Moffett Towers II construction involved replacing over 900,000 square feet of office space with five new eight-story structures.
Portland Bolt was chosen to manufacture the anchor bolts for the Moffett Towers project, and there were some large anchor bolts required indeed. Portland Bolt provided 96 high strength, A354BD anchor bolts that were 3¾" in diameter and just under six feet in length and 200 high strength, F1554 Grade 105 anchor bolts that were of a similar length but 2¾" in diameter. All told, the order consisted of approximately 60,000 pounds of anchor bolts and was shipped directly to the job site fully assembled with heavy hex nuts and plate washers.