What is Charpy testing and what ASTM standards require it?
Charpy testing, or impact testing, was developed in 1905 by Georges Charpy in order to determine the amount of energy absorbed by a material during fracture. It was noticed that as the temperature drops, the tensile and yield strengths of the steel increase, but the ductility drops, leading to brittle and sometimes catastrophic failures.
In this FAQ, our Certification Manager, Dane McKinnon, provides more information about this common fastener test and which ASTM specifications require Charpy testing.
continue reading →
Kandahar City, Afghanistan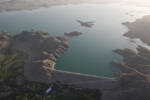 In recent years, Portland Bolt has truly become an international supplier of nonstandard anchor bolts and construction fasteners. One of the 49 countries we shipped to in 2014 was Afghanistan. The Dahla Dam project in Kandahar City required large diameter A193 Grade B7 and F1554 Grade 55 threaded rods.
Steven Wallenstein coordinated the order in which we manufactured and shipped over 12,000 pounds of large diameter rods for this US Army Corps of Engineers Middle East District construction project.
continue reading →
view shipment destination map →
If you buy and use bolts in your line of work, there is no substitution for fastener knowledge. The more you know, the less likely you are to make a mistake when it comes to buying and installing construction fasteners. With a total of 211 Frequently Asked Questions in our ever-expanding knowledge base, over the past year these questions have been viewed most frequently.
Calculating Yield and Tensile Strength
Hot-Dip Galvanizing vs. Zinc Plating
Galvanizing High Strength Bolts