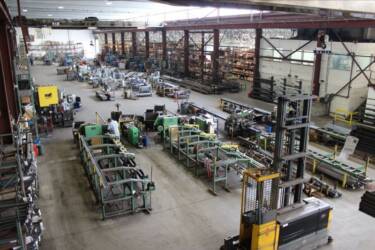 Portland Bolt has earned a reputation as a leading anchor bolt and nonstandard fastener manufacturer. Our 94,000-square-foot facility in Portland, Oregon, includes band saws, shears, cut threaders, roll threaders, hot-forging upsetters, and bending equipment used to produce virtually any type and grade of construction fastener.
Portland Bolt also utilizes ironworkers to fabricate anchor plates, custom washers, and templates. Certified welders perform tack welding and fillet welding procedures on various anchor bolt assemblies.
Portland Bolt may be the only construction fastener manufacturer with forging capabilities in the United States that makes and galvanizes bolts within the same facility.
DISTRIBUTION
Portland Bolt's warehouse includes a full line of plain finish and hot-dip galvanized construction fasteners including hex bolts, headed anchor bolts, bent anchor bolts, carriage bolts, timber bolts, lag screws, A325 structural bolts, and many other fasteners. Stocked items also include domestic and imported nuts and washers. Most stocked fasteners are available for immediate shipment.
What's the difference?
We have featured this frequently asked question in past newsletters. However, we feel there is such an important distinction between bolt manufacturers and fastener distributors that we chose to feature it again. Learn the differences between a manufacturer and a distributor, the pros and cons between purchasing from one versus the other, and the benefits of working directly with the company that is manufacturing the bolts for your project.
Houston, TX
In 2010, the Port of Houston Authority started a renovation project for the Port of Houston's Turning Basin Terminal. The Turning Basin Terminal is a multipurpose complex with open wharves and 37 docks. The goal of the renovation is to accommodate the increase in the transportation of steel.
In September of 2022, Portland Bolt supplied nearly 1,700 galvanized slotted timber bolts with fins for the new fender system at Wharf 1 at the Turning Basin Terminal.
Eli joined Portland Bolt in July 2022. Upon graduation from Washington State University, Eli moved to Portland. He enjoys playing golf, basketball, and weightlifting. In his free time, he likes finding new places to go on walks and exploring new foods.
Education: Washington State University – Pullman, Washington
BA- Strategic Communications
Hometown: Military Brat – WestPoint, NY, Columbus, GA, Honolulu, HI, Puyallup, WA
Activities/Interests: Golfing, pickup basketball, carpentry, New York Knicks, Yankees, and Giants
Films/TV: Breaking Bad, Shark Week, Hoosiers
Food: Steak, pasta, seafood

Portland Bolt's 16th annual NFL Survivor Pool is underway! This year the field has been whittled down quickly. We began with 678 participants and after ten weeks, there are only four remaining.
Prizes include:
First place: $250 Amazon gift card, engraved trophy, Portland Bolt 64 oz growler, Portland Bolt polo shirt
2nd Place: $100 Amazon gift card, Portland Bolt stainless pint glass, Portland Bolt polo shirt
3rd Place: $50 Amazon gift card, Portland Bolt stainless pint glass, Portland Bolt polo shirt
Three random participants also won a Portland Bolt prize pack: Brad H, Chad S, and Greg K