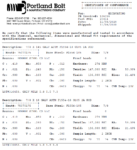 If your company engages in highway, government, or military work, you understand the high level of scrutiny the bolts you procure will be subjected to. Inspectors on other types of projects will also closely evaluate the products and paperwork prior to fastener installation.
Have you ever had a project delayed due to a lack of certification documents? The advantage of working directly with Portland Bolt is that we generate the most comprehensive certification documents in the industry, including a certificate of compliance backed up by the mill test reports. We can't afford to put bolts into the marketplace that don't comply with ASTM specifications, and you can't assume the liability of installing bolts without proper documentation.
Portland Bolt emails your certification documents at no additional cost on the day your order ships, and we will gladly include a hard copy with your shipment upon request. Your email that contains the certification documents also includes shipment tracking information. If you ever lose your paperwork, rest easy. We keep them stored electronically for easy retrieval.
Cleveland Steel Specialty Bankruptcy Auction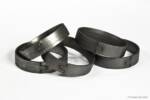 Portland Bolt stocks up on domestic shear plates and split rings
Cleveland Steel Specialty Company based in Bedford Heights, OH ceased operations in early 2020. This is important because Cleveland Steel purchased Timber Engineering Company's Fastener and Connector Division in 1992 and had been supplying heavy timber connectors including split rings, shear plates, and spike grids since then.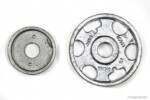 Several years ago, Portland Bolt discontinued our relationship with Cleveland Steel and developed our own source of split rings and shear plates, as well as domestically manufactured grooving tools and dapping tools required for proper installation.
Portland Bolt recently purchased Cleveland Steel's remaining inventory of domestic shear plates and split rings at a mid-September auction. Need domestic timber connectors and installation tools? Contact Portland Bolt!
Portland, Oregon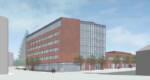 Portland Bolt is proud of the wide geographical reach of our bolts. Sometimes though, there are projects right in our backyard that we have an opportunity to participate in.
In April of 2020, Portland Bolt manufactured over 30,000 pounds of anchor bolts required for the Lincoln High School replacement project in downtown Portland. The bulk of the weight consisted of 3" diameter ASTM F1554 Grade 105 anchor rods and 3-1/2″ diameter ASTM A354 Grade BC anchor rods.
Mike started with Portland Bolt in April 1999. He enjoys the camaraderie with customers and coworkers at Portland Bolt. He works with a variety of customers, with an emphasis on those in the marine contracting and steel fabrication industries. Mike is a native Portlander that graduated from Cleveland High School and Oregon State University.
Mike manages two of our microsites: www.marineconstructionbolts.com and www.a354bolts.com.
Activities/Interests: Traveling, camping, hiking, scuba diving, cooking, basketball, Orangetheory Fitness, daily fantasy sports, poker
TV: Nathan for You, Mr. Show, I Think You Should Leave, Succession, Eastbound and Down, Better Call Saul, Curb Your Enthusiasm
Podcasts: The Bill Simmons Podcast, Joe Rogan, Establish the Run, Locked on Blazers, The Rewatchables