mi·cro·site
/ˈmīkrəˌsīt/
noun
an auxiliary website with independent links and address that is accessed mainly from a larger site.

The newest addition to our microsite lineup is www.anchorrods.com. Salesperson Anthony Porreco and Web Designer Sarah Kemp have teamed up to create a website that is designed to educate engineers, architects, contractors, fabricators, fastener distributors, and other construction-related companies about all aspects of anchor rods. This site covers anchor rod configurations, applications, ASTM specifications, manufacturing operations, compatible nuts and washers, and frequently asked questions pertaining to anchor rods.
Anchor rods are threaded fasteners used to attach structures to concrete foundations. Anchor rods can be cast-in-place or post-installed in an existing concrete slab. All anchor rods possess an element on the embedded end that anchors the rod in the foundation. A threaded end projects from the concrete and is used with nuts to anchor the structure to the foundation.

Portland Bolt installs (2) HYDMECH S-23A HYDMECH Horizontal Pivot Band Saws
Portland Bolt is committed to reinvesting in equipment, personnel, and systems to ensure quality product, on-time deliveries, and outstanding customer service. In October of 2018, Portland Bolt purchased and installed two brand new HYDMECH S-23A Band Saws, replacing two older-model saws. These band saws feature an automatic mode control with an LED readout for blade tension, blade speed, blade height position, run time of the cut, blade drive motor amperage draw, part length, quantity required, piece count, job run time, and total blade run time. Saws are used to cut round bar that is too large in diameter and/or too long to cut with Peddinghaus Shears. Saws are also used to cut steel pipe sleeves and all thread with either a square or 45-degree end.
Additional equipment investments include two new Toyota forklifts and a new induction unit to heat the ends of round bar that will be forged into hex, square, and other types of headed bolts.
How long can Portland Bolt honor a price quote?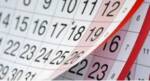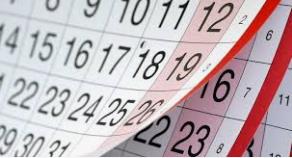 The short answer is that we will honor our price as long as we possibly can. We realize there is often a delay between the time we quote a project and the date the purchase order is actually placed.
The fine print on our quotes reads as follows, "All quotations are for immediate acceptance unless otherwise noted. Prices subject to change without notice. All material subject to prior sale." However, unless there is an extended period of time between quote and order placement or a raw material cost or accessory item cost (nut, washer, etc.) change dramatically, we do everything possible to honor our quoted prices.
Eugene, Oregon, United States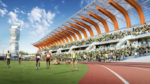 Hayward Field is the historic stadium that has been the home of the University of Oregon's track and field team since 1921. In 2018, the stadium was demolished, and a new stadium is being built on the same site. Phil Knight is the primary donor, and the stadium is expected to be reopened in time for the 2020 United States Track and Field Olympic Trials.
Portland Bolt manufactured over 90,000 pounds of 2″ and 2½" diameter anchor rods in lengths measuring 50″ – 88″. Additionally, Portland Bolt is providing 15,000 lag screws that will secure the roof structure to the glulam beams.