Make us an offer we can't refuse!
Portland Bolt acquired a large variety of truss hangers, joist hangers, and related products from the Cleveland Steel Specialties liquidation auction in 2020. These products have now been counted, organized, and are available for any reasonable offer. Look through the list of products and contact us if you have an interest in any of these items.
Products Include:
Portland Bolt is hiring two sales representatives!
Do you think you have what it takes to excel as a sales representative with one of the leading fastener manufacturers in the United States? Join a team of eleven of the most competent sales representatives in the industry. Interested? We want to hear from you! To learn more about the position and to receive consideration for this opportunity, please follow the submission instructions on the Careers Page of our website.
What's the difference?
When looking at a bolt specification, you may notice that some are ASTM standards, such as ASTM F1554, and some are SAE standards, such as Grade 5 (a common bolt found within the SAE J429 specification).


ASTM International, formerly known as the American Society for Testing and Materials is an "international standards organization that develops and publishes voluntary consensus technical standards for a wide range of materials, products, systems, and services."
SAE International, formerly known as the Society of Automotive Engineers is another standards organization with a focus on automotive and aerospace standards.
Generally, ASTM fastener specifications are used in the construction industry, while SAE fastener grades are used for equipment and OEM applications.
Sun Valley, CA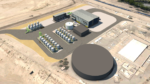 Los Angeles needed access to more than 225 square miles of groundwater in the San Fernando Valley Groundwater Basin but knew that the water contained contaminates dating from as far back as 1940. The solution? A state-of-the-art water remediation facility. Needless to say, such a facility requires industrial-sized strainers, reactors, pumps, and miles of piping and cable. To anchor all this heavy-duty equipment you need a heavy-duty bolt. That's where we come in – supplying over 30,000 lbs. of 1-3/4" x 72" galvanized A193-B7 anchor bolts with matching nuts and plate washers.
The work is no problem for us as we can galvanize these bolts in-house for a fast turnaround on getting them shipped out to the job site. If you have a job with large custom anchor bolts give one of our experienced estimators a call and we will get you a quote.