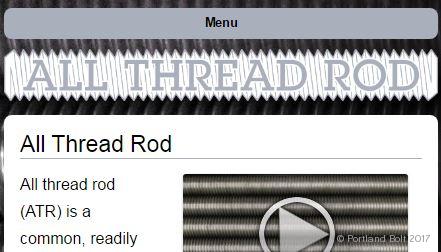 All thread rod is one of the most widely used fasteners in the construction industry due to its availability, low cost, and versatility. Many grades and diameters are mass-produced and available for cutting to length and shipping on short notice. All thread rod is used to fasten wood, steel, and concrete. Common applications include epoxy anchors, double arming bolts, extensions coupled to another fastener, pipe flange connectors, and other general purpose applications.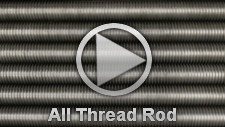 Salesperson Kailey Tillman and Web Designer Sarah Kemp have teamed up to create a website that is designed to educate engineers, architects, contractors, fabricators, original equipment manufacturers, and other construction-related companies about all facets of all thread rod. This site includes common grades of all thread rod, stock sizes, various applications, coating options, frequently asked questions, technical information, and a manufacturing video of all thread rod being produced. We encourage you to contact Kailey or one of our other salespeople with questions, for a price quote, or to purchase these products.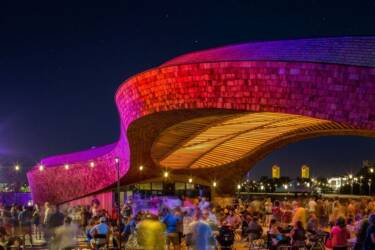 Sacramento, California
Located in West Sacramento's Bridge District, The BARN serves as an architectural landmark offering a venue for food and events on the city's waterfront.
In the summer of 2015, Portland Bolt manufactured over 500 tie rod assemblies for The BARN, complete with clevises assembled on each end. A unique aspect of this job was that it required a multitude of different rod lengths ranging from 3′ to 22′. Portland Bolt supplied more than 2,500 lag screws for the project as well.
Galvanizing and Welding High Strength Bolts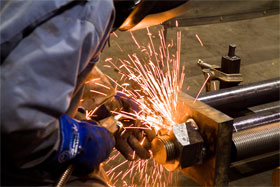 Probably the two most common technical questions we answer pertain to the ability to weld and to galvanize high strength bolts. Galvanizing and welding certain high strength bolts that have been heat-treated as an operation in the manufacturing process could have disastrous results.
Learn more about which grades of bolts can't be galvanized and which grades of bolts and nuts can't be welded by following the links below.
A handful of commonly used fasteners cannot be galvanized due to the risk of hydrogen embrittlement.
Welding to bolts that obtain their strength through heat-treatment is not advised.
Most common nut grades that are readily available in the marketplace should not be welded.
ASTM Specification Updates
Twice each year, the ASTM Fastener Committee F16 meets to discuss and vote on updates to existing fastener specifications and the introduction of new specifications. Portland Bolt Purchasing Director and Certification Manager, Dane McKinnon, attends these biannual meetings and is a voting member of the committee. Dane's summary of the most recent meeting in Toronto earlier this month is as follows:
There is a significant amount of low carbon all thread rod from China that is hitting the market in Canada with sub-standard threads. The threads are at a 45° angle instead of a 60°. We are seeing it primarily in ⅜" and ½", and we haven't seen much in the US yet, but it's bound to make its way here. It's cheaper to produce, but it is likely to fail if stressed to its full capacity. That's why it is important to buy from a reputable supplier with solid quality assurance procedures.
ASTM A354 went through a major revision and should be published by June. The major changes are: The use of higher nickel alloy and Charpy v-notch testing for grade BD in diameters 2½" and up, a max tensile of 173ksi (to mirror A490), and the inclusion of supplemental requirements for magnetic particle inspection. No major changes for grade BC.
ASTM A194 – After much discussion, grade 4 has been officially withdrawn. Grade 7 nuts are more widely available and are made from better steel, so Grade 4 has been defacto obsolete for years. It is now no longer included in the A194 standard.
ASTM F3125 – There is a push to add rotational capacity testing back into the standard (currently a supplemental) as well as to add 144ksi bolts that can perform as well as A490s, but can be galvanized. 144ksi bolts are currently being produced as tension control bolts under ASTM F3148, but are limited in their use for now. Long term, the thought is to replace A490 bolts with 144ksi bolts, then galvanizing and "approved" coatings won't be an issue. The last revision ballot met with some resistance, so it is being rewritten and will be discussed and voted on later this year.
The American Galvanizers Association is doing some testing on hot-dip galvanized A490 bolts and gave a presentation summarizing their results. Committee F16 requested more information and additional testing before we formally discussed any revisions based on their test results.