Did you know Portland Bolt has its own hot-dip galvanizing line?
Hot-dip galvanizing (HDG) is a method of coating construction fasteners with a layer of zinc that provides steel fasteners with decades of corrosion protection. In this process, fasteners are wheelabrated and cleaned, submerged in 840 degree molten zinc, and then spun in a high speed centrifuge to remove the excess zinc. Portland Bolt is one of only a few fastener manufacturers in the United States that not only makes bolts, but also galvanizes them within the same facility.
One primary advantage of galvanizing bolts ourselves is quality assurance. Threaded products are a challenge to galvanize, and our hot-dip galvanizing line was designed specifically for fasteners and to facilitate a trouble-free nut fit. Our high-speed spinner uses centrifugal force to remove excess zinc from the threads as soon as the fasteners are removed from the galvanizing kettle. Most other fastener manufacturers rely on vendors to galvanize their bolts, and these large-tank galvanizers may or may not have the proper equipment necessary to process fasteners so that excess zinc is removed from the threads. This often requires the threads to be chased after galvanizing which is strictly prohibited by ASTM F2329that covers hot-dip galvanizing of fasteners.
The other advantage of owning our own galvanizing line is that it allows us to control the delivery schedule. In this day and age of fast-track construction projects, contractors cannot afford to be waiting for bolts to be delivered. Concrete cannot be poured and nothing can be assembled without bolts. Since we control our own production schedule for all labor operations including galvanizing, we have the ability to expedite galvanized bolt orders and deliver them to the job site when they are needed.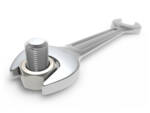 What is the "turn of the nut method" and how does it apply to anchor bolts?
The turn of the nut method is a very popular and reasonably reliable method for tensioning certain types of fasteners.
Dane McKinnon describes this common installation technique, tells us the grades of bolts with which it is often used, and educates us as to whether or not it should be implemented with anchor bolts.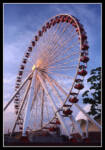 Branson, Missouri
In the summer of 2016, the Track Family Fun Parks in Branson, Missouri welcomed the addition of an iconic Ferris wheel. Relocating this Ferris wheel from Chicago to Branson required 132 large anchor bolts.
Can you put the Branson Ferris Wheel back together? Test your skill at our sliding puzzle and win some cool Portland Bolt swag.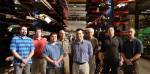 At Portland Bolt, we believe that building lasting professional relationships with customers and vendors is the essence of a successful business. We enjoy getting to know the people and companies we do business with on a regular basis and have tried to make it easy for you to learn about the employees here at Portland Bolt that you may interact with.
Our office and management personnel each has a profile page that you can access by clicking through to our Meet the Team landing page and from there, clicking on an employee's name to access their profile. Our salespeople have an expanded profile that contains the following:
A brief bio containing personal information about the employee
Photograph
Latest projects handled by the salesperson
List of recent FAQs composed for our website
Direct contact information and office hours
Recent customer feedback, mostly from our online chat application
We hope you will take a moment to get to know the members of our team.