Shipment Destination Map
Portland Bolt…

We're closer than you'd think!
Happy New Year from all of us at Portland Bolt.
In 2010, we were literally all over the map. Portland Bolt shipped just over 5.25 million pounds of custom construction bolts to all 50 states, 8 of the 10 Canadian provinces, and 20 different countries. With our new interactive map, you can see exactly where and how much we shipped yesterday, last week, last month, or all of last year.
As this map demonstrates, whether you're just down the street, several time zones away, or somewhere in-between, you're in a prime location for Portland Bolt to meet your construction bolt needs.
Is your city on the map? If not, we're here to help you change that!
First Look at Video Content
Portland Bolt Goes On Location
Portland Bolt will soon be featuring video content on our website and in future newsletters. Video content will be integrated into the Project Resume, Manufacturing Capabilities, Ask the Expert, and Contact Us sections of our website. This is a sneak preview for our newsletter readers that will be featured in the Project Resume section of our website. In this installment, we actually go on location to the Oregon Convention Center, a project for which we manufactured custom tie rods.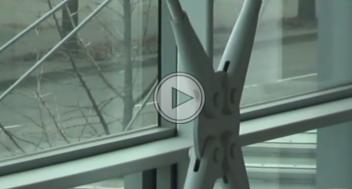 Vancouver, British Columbia
BC Place is a multi-use sports facility in scenic Vancouver, British Columbia. You may recognize the stadium from Expo 86, or from the opening and closing ceremonies of the 2010 Winter Olympics. Formerly a dome, the stadium is currently being renovated and will feature a retractable roof. The cable-supported roof is the biggest of its kind in the world. Portland Bolt manufactured 3″ diameter A449 hot-dip galvanized rods and 2″ diameter A449 hot-dip galvanized heavy hex bolts, which were used in connecting the 47 meter masts to steel girders.