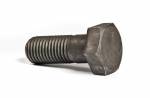 Are black bolts painted black?
Most likely no. Our "black" bolts are unfinished or bare steel. The term "black bolt" is an industry term for plain finish or no finish bolts. These bolts offer no corrosion resistance and will rust over time. If you are looking for a decorative coating that is actually black, you will want to specify that... Read more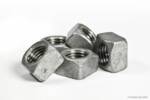 Can I use black (plain finish) or zinc plated nuts on galvanized bolts?
No. Hot-dip galvanized nuts need to be used with hot-dip galvanized bolts since galvanized nuts are tapped oversize to accommodate for the extra 2 – 6 mils (.002 – .006) of zinc that is added to the threads of the bolt during the galvanizing process. A common misconception is that bolts that are going to... Read more