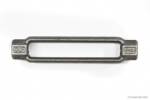 When designing vertical rod bracing system I would like to use F1554 grade 55 rod to achieve smaller diameters. But if I use a turnbuckle I am limited to the safe working load of that turnbuckle. Is there a higher capacity turnbuckle available?
You are correct that your capacity would be limited by the safe working load of the turnbuckle, but it would be limited to that regardless of the grade of steel used for the bracing rod. Let's assume you are using mild steel, A307/A36 rods. The minimum yield strength of that material is 36,000 psi. Using... Read more
How are tie rods, turnbuckles, and clevises configured?
Tie rods, clevises, and turnbuckles are an important part of many architectural designs. Canopy supports, structural steel bracing, and walkway hangers are a few of the applications that use these assemblies. The unique configuration allows for field adjustments in both length and tension. Adjustment Adjustments are possible by threading opposing ends of the rod right hand... Read more
Is it appropriate to spec ASTM F1554 in place of A36 tie rods for higher strength applications? What are the lengths these rods come in, the availability of each grade, and cost differences?
Most ASTM standards address the recommended application of the fastener. There are often two or three different ASTM specifications with similar chemical and mechanical properties, but with differing applications. ASTM F1554 is a specification that is designed for anchor bolts embedded in concrete. Since your application is for tie rod assemblies, it would appear that... Read more