Tag Archives: structural bolts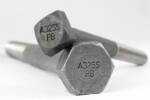 Is There a Difference Between ASTM A490 and ASTM A325 Bolts?
The short answer is that A490 heavy hex structural bolts have higher strength requirements than A325 heavy hex structural bolts. A325 bolts have a minimum tensile strength of 120ksi while A490 bolts have a tensile strength range of 150-173ksi. In addition, there are a few other differences shown below. Coatings A325 structural bolts can be... Read more
Is there a "structural grade" for fasteners?
Portland Bolt is often asked which grade should be used in a structural application. More specifically, when asked what grade is required for a particular fastener that we are receiving an inquiry on, companies will often reply "it's a structural grade" or "it's for a structural application". This usually is the result of a fastener being specified... Read more
Can I order A490 Heavy Hex Structural Bolts larger than 1-1/2" diameter?
According to ASTM A490-11, the answer is no. The A490 specification only covers diameters from 1/2″ to 1-1/2″, inclusive. An A490 bolt cannot be made above 1-1/2″ diameter; ASTM does not allow it. Since there are no chemical requirements, hardness requirements, or strength requirements for A490 fasteners above 1-1/2″ diameter, no manufacturer would be able... Read more
My company is looking to purchase A325SC, A325N, and A325X heavy hex structural bolts. What is the difference between these three?
There is no difference between these bolts. The "X", "SC", and "N" simply identify the type of connection the bolts are used in. "X" and "N" are bearing type connections, where the bolts are being used in shear. "X" means these particular A325 heavy hex structural bolts will be used in a bearing type connection... Read more
According to section 9 of the ASME B18.2.6 specification that covers fasteners for use in structural applications, an A325 structural bolt can actually be produced .12" to .25" less than the published length and still meet the specification.
According to section 9 of the ASME B18.2.6 specification, which covers dimensional tolerances for hex bolts, A325 and A490 structural bolts can actually be produced between .12 to .25 of inch less than the published length and still meet the specification. This small difference isn't much, but mass bolt producers save a significant amount of... Read more