Tag Archives: shear plates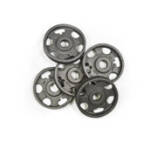 What ASTM Specification covers castings?
There are several ASTM specs which cover castings, including A47, A48, A536, and A668. ASTM A47 A47 covers malleable castings intended for general use up to temperatures around 750⁰ Fahrenheit.  A47 castings come in one grade, available in metric and imperial. Common forgings specified to A47: Shear Plates, Beveled Washers ASTM A48 A48 covers gray... Read more
Can I weld to your malleable beveled washers?
Along with shear plates and round malleable washers, malleable beveled washers are made with ASTM A47 cast malleable iron. See the following excerpts from ASTM A47. 11.3 Castings that have been repaired by the welding shall be reannealed so that the microstructure will comply with Section 8. (Section 8 of ASTM A47 lays out specific... Read more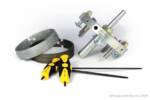 Can I install a Split Ring without using a Grooving Tool or a Shear Plate without using the Dapping Tool?
In theory, one could potentially carve out a groove that would be sufficient for fitting a shear plate or split ring. However the labor and ability to carve an exact fitting grove would be time consuming as well as tedious. All references to the proper installation of shear plates and split rings, such as the... Read more