Tag Archives: hydrogen embrittlement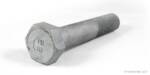 According to the information you give in your site, ASTM A193 Grade B7 can be galvanized. However, this material does not have a maximum tensile strength. Thus, it is possible to have ASTM A193 Grade B7 bolts with a tensile strength higher than 150 ksi and in this case, bolts should not be galvanized. What is your experience about this matter and how high can the tensile strength be in a current production?
The concern with galvanizing any high strength steel is the risk of hydrogen embrittlement. There is plenty of research on galvanizing high strength steels, but conclusions vary on the strength at which hydrogen embrittlement will likely occur when the parts are galvanized. Some research identifies 150 ksi tensile strength as a threshold, but other research... Read more
Can high strength bolts be hot-dip galvanized?
Some high strength bolts can be galvanized while others cannot. In the construction fastener industry, typically the phrase "high strength" refers to bolts that have been quenched and tempered (heat treated) to develop the proper strength requirements of a given specification. In many cases, low alloy steels like ASTM A572g50 or F1554g55 are called "high... Read more
What corrosion-resistant coatings are available for high-strength (over 150 ksi) bolts?
Due to hydrogen embrittlement concerns ASTM recommends against hot-dip galvanizing , mechanical deposition, or electroplating with zinc or other metallic coatings on high strength bolts ultimate tensile strengths that exceed 150 ksi. So what are the alternatives to provide corrosion resistance for A490 structural bolts? Protective Coatings ASTM states that if a protective coating is... Read more