Can I order bolts to ASTM A36?
ASTM A36 is a very common steel standard that covers structural carbon steel shapes, plates and bars. Fasteners are not specifically included in the scope of A36, but that doesn't stop engineers and contractors from asking for A36 bolts. Why is that an issue? The inherent problem with trying to order bolts to a ASTM... Read more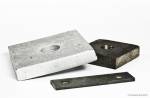 How large should I oversize my plate holes?
Square plates, rectangular plates, round plates, and templates are often required as part of an anchor bolt or fastener assembly. These plates serve as either large, oversized washers or anchor plates which are fastened to the bottom of anchor rods to provide pull-out resistance. Plates and washers are typically manufactured to ASTM A36, A572 grade 50,... Read more
What are the differences between A36 and A307?
ASTM A36 is a steel (raw material) specification, while ASTM A307 is a fastener specification. In other words, once you take A36 round bar and cut it, thread it, bend it, forge a head on it, or otherwise process it and turn it into a fastener, it becomes an A307 bolt. Often times, ASTM A307... Read more