Category Archives: Technical
Grade Marking Specification Material and Treatment Nominal Size (In.) Mechanical Properties Hardness Rockwell Proof Load Min (ksi) Yield Strength Min (ksi) Tensile Strength Min (ksi) Elong % Min [9] RA % Min [10] Min Max SAE J429Grade 1 Low or Medium Carbon Steel 1⁄4" – 11⁄2" 33 36 60 18 35 B70 B100 A307 Grade... Read more
Grade Marking Specification Material and Treatment Nominal Size (In.) Mechanical Properties Hardness Rockwell Proof Load Min (ksi) Yield Strength Min (ksi) Tensile Strength Min (ksi) Elong % Min [9] RA % Min [10] Min Max SAE J429Grade 1 Low or Medium Carbon Steel 1⁄4" – 11⁄2" 33 36 60 18 35 B70 B100 A307 Grade... Read more
Can A320 L7 grade bolts be used for Slip Critical connections?
The grade of bolt used in a Slip Critical (SC) connection has no direct bearing on the connection itself, so the answer is yes. The SC connection means that it is a type of bolted structural steel connection which relies on friction between the two connected elements rather than bolt shear or bolt bearing to... Read more
Are stainless steel fasteners magnetic?
A common misconception is that stainless steel is non-magnetic. There are five classes of stainless steel, and only one is non-magnetic. However, it just happens to be that the most widely used type (austenitic) is the one that is not magnetic. Class Magnetic? Common Types Ferritic Yes 430,442 Austenitic No 304,316 Martensitic Yes 410,416 Duplex... Read more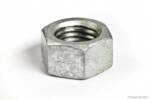 Since the threads inside of a hot-dip galvanized nut are bare metal, will they corrode?
The short answer to this question is no. However, there are many variables with regard to the protective coating that prevents the internal threads of a galvanized nut from corroding. In this FAQ, we will explore some of the variables brought about by this question. One of the first issues to address is the question... Read more
Does Portland Bolt manufacture bolts from 44W steel?
Yes. 44W / 300W is the Canadian version of A36 steel, and is a grade within the CSA G40.21-04 specification. The Canadian Standards Association specification G40.21 covers structural quality steel plates, shapes, sheet, sheet piling, cold-formed channels, hollow sections, Z sections, and bars. 44W steel has slightly higher mechanical requirements than A36, which are summarized... Read more
Are F1554 Grade 55 anchor bolts always weldable?
F1554 Grade 55 anchor bolts are not always weldable. The weldability of Grade 55 is a supplemental requirement referred to as "S1", which must be specified. According to the ASTM F1554 specification under section S1.1, "This supplemental section, by chemical composition restrictions and by a carbon equivalent formula, provides assurance of weldability." For F1554 Grade 55... Read more
What is the maximum service temperature for A193 Grade B7 bolts?
Portland Bolt is often faced with this question, and because there are many conflicting sources online, we decided to do a little research on our own. The resource we found most helpful was ASME B31.1-2012. In this specification, there is a table which shows the maximum allowable stress values in Tension (KSI) for metal temperature.... Read more
Do F1554 anchor bolts come in stainless steel?
The answer to this question is no. As stated in Section 1.1, the F1554 specification covers various configurations of, "…carbon, carbon boron, alloy, or high-strength alloy steel anchor bolts." In general terms, for a steel to be considered "stainless" it must contain at least 10.5% chromium as part of its chemical composition and will often... Read more
Why won't Portland Bolt manufacture galvanized bolts above 1-1/2" diameter with 8 TPI thread?
Our two main concerns with providing galvanized bolts larger than 1-1/2" diameter with 8 threads per inch is the lack of overtap allowance standards for the mating nut and the potential for premature thread stripping due to the nut oversizing. Overtap Allowances All inch series hot dip galvanized hex nuts, regardless of grade, are tapped... Read more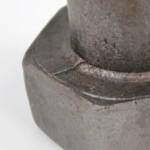 Are die seams allowed on headed bolts?
There are several differences between bolts intended for use in construction and more precision fasteners, such those used in an OEM application. One difference for headed bolts is the process in which the head is formed on the bolt and the resulting appearance of the bolts. Larger, construction headed bolts are typically made by hot-forging... Read more
If my already installed anchor bolts got bent by accident, is it OK to bend them back?
The anchor rods in this photo were damaged because they were covered with snow and the equipment operator did not see them. Every situation is different, and we try to not make recommendations where bent anchors are concerned as we feel it is a question better answered by the project engineer, as he/she will be... Read more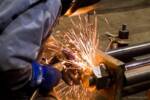 When is it acceptable to weld to bolts, and when it is prohibited?
Many grades of bolt gain their strength though a heat treating process, and the addition of heat during welding can adversely alter those strength properties. However, some lower strength grades are easily weldable when manufactured from weldable steel. In general, steel items which have been heat treated for strength should generally not be welded since... Read more
What is the difference between SS316/SS304 and SS316L/SS304L?
Stainless steel type 316 and type 304 are raw material grades for stainless steel. Stainless steel fasteners are sometimes referred to and ordered as their raw material grades (such as SS 316 and SS304) and sometimes referred to and ordered as their ASTM specification. The common ASTM specifications that cover stainless steel bolts are A193,... Read more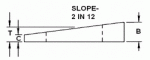 How do I calculate the slope in degrees for a beveled washer?
The slope of a beveled washer or a given segment represents how much the elevation changes over a certain distance. The higher the slope, the more steep the incline or decline. Slope is measured in degrees, ratios and grades. To find the slope in degrees, you need to make use of trigonometry ratios or more... Read more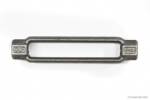 When designing vertical rod bracing system I would like to use F1554 grade 55 rod to achieve smaller diameters. But if I use a turnbuckle I am limited to the safe working load of that turnbuckle. Is there a higher capacity turnbuckle available?
You are correct that your capacity would be limited by the safe working load of the turnbuckle, but it would be limited to that regardless of the grade of steel used for the bracing rod. Let's assume you are using mild steel, A307/A36 rods. The minimum yield strength of that material is 36,000 psi. Using... Read more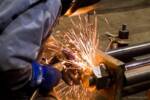 Can welding be performed on high strength anchor bolts and fasteners?
The short answer is that in most cases, welding high strength bolts is not allowed. In the fastener industry, the term "high strength" typically refers to any medium carbon or alloy steel which undergoes a heat-treating process to develop the strength properties necessary to meet the requirements of a given specification. These ASTM specifications include... Read more

What is the difference between a bolt with rolled threads and one with cut threads and does a fastener with a reduced body and rolled threads meet ASTM specifications?
Threads of a mechanical fastener, regardless of whether it is a headed bolt, rod, or bent bolt, can be produced by either cutting or rolling. The differences, misconceptions, advantages, and disadvantages of each method are described below. Rolled Threads Roll threading is a process by which steel is extruded to form the threaded portion of... Read more
Are SAE Grade 2, 5, and 8 bolts available in diameters over 1½"?
No, the SAE J429 specification only covers bolts up to and including 1½" diameter. SAE J429 (1999), the specification that includes Grade 2, 5, and 8 fasteners, states: "This SAE standard covers the mechanical and material requirements for inch-series steel bolts, screws, studs, SEMS, and U-bolts used for automotive and related industries in sizes to... Read more
How do I determine the yield and tensile strength of a specific diameter of bolt?
In most cases, the strength of a given material used to make a fastener has strength requirements or parameters described as pounds per square inch (psi) or thousands of pounds per square inch (ksi). This is helpful when analyzing what grade of material should be used for a given application, but this doesn't tell us... Read more
What is the maximum service temperature limitation for hot-dip galvanized fasteners?
The answer to this question can be found in the appendix of the ASTM A194 specification, which deals with nuts for high temperature or high pressure service. Specifically, section X2.1 – Coatings and Application Limits. In this section it states that coated fasteners should not be used at temperatures above one half of the coating's... Read more

What are my thread pitch options when ordering bolts?
There are several different thread series available for construction fasteners. Below are the three of the most common thread series utilized in the fastener industry.  Coarse Thread Series Unified National Coarse (UNC) – Coarse threads have fewer threads per axial distance than fine threads and a larger thread form relative to the diameter. Coarse thread... Read more
What is the difference between Grade 5 and A325 bolts?
While these two bolts are virtually identical in terms of chemical and physical strengths and properties, there are several differences between the two. The Grade 5 specification falls under the Society of Automotive Engineers (SAE) classification system, while A325 is an ASTM specification. ASTM A325 bolts are more commonly specified by engineers for use in... Read more
What are the differences between 18-8, type 304, and type 316 stainless steels?
To answer this question, you first need to know some basic information about stainless steel. "Stainless Steel" is the general name for a large family of alloy steels that contain at least 10.5% chromium as part of their composition. At and above this level of chromium, a complex chrome-oxide surface layer forms that prevents further... Read more
Can a bolt be reused? If so, what grades and in what scenarios?
A bolt that has already been used in a given application may or may not be reused, depending on the grade, application, and recommendation of the "Engineer of Record". There are a tremendous number of conflicting opinions on this subject, but the only definitive published information we can find on this issue from a reputable... Read more