Portland Bolt's 14th annual NFL Survivor Pool is open for entry. Join for free, and compete for your chance to win Amazon gift cards and awesome Portland Bolt gear! Over $600 in cash and prizes is up for grabs.
The rules are simple. Pick one NFL team each week to win their game, and survive to play another week. A single incorrect pick will eliminate you from the competition, so choose wisely.
This year's prizes include:
First place: $250 Amazon gift card, engraved trophy, a PB polo shirt, and a PB insulated stainless steel pint glass\
Runner-up: $100 Amazon gift card, a PB polo shirt, and a PB insulated stainless steel pint glass
Third place: $50 Amazon gift card, a PB polo shirt, and a PB insulated stainless steel pint glass
Three random participants will also win a Portland Bolt prize pack including:
A Portland Bolt polo shirt
A Portland Bolt baseball cap
A Portland Bolt insulated stainless steel pint glass
Get your pick in by Sunday, September 13th at 1:00 pm ET. If you want to pick an early game you must do so by kickoff. Have fun and good luck!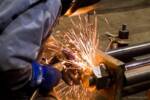 Can welding be performed on high strength fasteners?
The short answer is that in most cases, welding high strength bolts is not allowed. The heat applied to the high strength fastener during welding can alter the mechanical properties and the raw material used to make the bolt possesses chemistry that is technically not weldable.
Read more →
Chautauqua County, NY
Located in the backcountry in Chautauqua County, NY, Pine Junction offers a remote dining and event space right off the main New York snowmobile trail. The venue broke ground on a new "Event Barn" in early 2020. Portland Bolt provided the timber connecting fasteners on the project in the spring of 2020.
In two weeks, Portland Bolt was able to manufacture and galvanize over 300 pieces of ¾" diameter timber bolts in various lengths for the project.
With over 45 years of bolt industry experience, Gary Rusynyk started his career at Lamson & Sessions in Cleveland, Ohio. He joined Portland Bolt in 1978 and is an expert on many fastener and standards-related topics.
Gary participates as a voting member on ASTM Committee F16 that oversees fastener specifications. This committee has jurisdiction on over 60 fastener standards. Gary serves as a mentor to the other employees in the Portland Bolt sales department. He works closely with companies in the light rail and light pole manufacturing industries and is an expert on galvanized anchor bolts. Visit Gary's educational microsite at www.galvanizedanchorbolts.com.
Hometown: Cleveland, Ohio
Education: Bowling Green State University – Bowling Green, Ohio
Movie: Raiders of the Lost Ark
Hobbies: Sports, Reading
Favorite Sports: Baseball, football, basketball
Food: Japanese