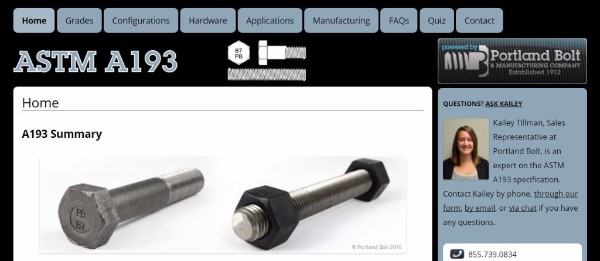 Salesperson Kailey Tillman and Web Designer Sarah Kemp have teamed up to bring you our newest microsite www.A193bolts.com!
Microsites are auxiliary websites containing specialized information. ASTM A193 studs and heavy hex bolts are widely used in the construction industry, and this microsite will provide in-depth technical information about the specification.
Learn about the various grades within the A193 specification, applications for these fasteners, how they are manufactured, and even take a quiz that will test your knowledge of A193 bolts!
Visit A193bolts.com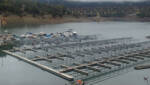 Guerneville, California
Wine connoisseurs may be familiar with Sonoma County, California as a hotbed of wineries. While wine generally improves with age, the same can't be said for docks. Portland Bolt supplied nearly five thousand 3/4″ hot-dip galvanized rods for the new docks at the Lake Sonoma Marina.
learn more →
If you have never taken the time to thoroughly explore our website, you are missing out on a plethora of technical information. To even the most seasoned structural engineer or construction professional, the technical aspects of bolts and fasteners can seem overwhelming.
Fear not, because Portland Bolt has created and compiled the most comprehensive source of free technical information found anywhere on the internet. And if you can't find what you are looking for on our site, we always encourage you to pick up the phone and call us at (800) 547-6758.
FAQ: Our resident experts have composed a whopping 235 Frequently Asked Questions that address common fastener-related issues that arise on a regular basis.
Calculators: Our Web Designer, Sarah Kemp, has created a handful of useful calculation tools.
Specifications: We have provided brief summaries of many of the specifications commonly used in the fastener industry.
Charts: Our handy reference section includes: