Looking to make a career change? Want to join one of the most experienced and respected sales teams in the fastener industry? Due to outstanding company growth, in January we will be adding 2 new salespeople to our team.
At Portland Bolt we do things a little differently. Our sales people are paid a salary instead of commission. This promotes teamwork rather than bickering over sales, and the customer is the beneficiary. We sit in close proximity with one another and our low partitions create an environment that allows us to assist each other and share our wealth of knowledge among the team.
In addition to selling nonstandard construction fasteners, our salespeople estimate the costs of the bolts we manufacture, perform account management duties, purchase some accessory items that complement the bolts we make, and perform order entry functions. We also have an outstanding training program to teach the technical aspects of the position as well as the customer service and salesmanship skills required to excel.
Portland Bolt offers outstanding benefits that include:
Salary with profit sharing
Fully paid medical and dental benefits for the employee and their immediate family
401(k) with 25% company match
If you are intrigued by this multifaceted sales opportunity, click the button below to learn about the qualifications and where to submit your cover letter and resume.
Learn More
Chelan, Washington


In the spring of 2017, construction began on a long-awaited new marina on Lake Chelan in Washington. The marina features 168 slips designed to accommodate pontoon boats, sail boats, recreational ski and wake-board boats, and cabin cruisers up to 40+ feet.
Our in-house hot-dip galvanizing line and extensive manufacturing capabilities are ideal for providing a variety of bolts and fasteners for marine construction projects throughout the world.
What is thread runout and what specifications cover it?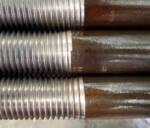 Thread runout is the portion of a bolt where the threads transition into the unthreaded shank. This area exists beyond where the usable thread stops. If you were to assemble a nut all the way onto a bolt, the nut will stop, but there will be a small portion of unusable thread where it transitions into the smooth body of the bolt.
Can A325 and A490 structural bolts be tightened by turning the head of the bolt rather than the nut?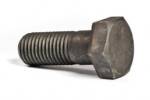 Most bolts are tightened by holding the head securely and rotating the nut.  However, we often field questions regarding whether or not structural bolts can be tightened by rotating the head of the bolt instead of the nut.