The threaded end of a fastener often possesses a special point to facilitate nut assembly, provide ease of installation, use with epoxy, or drive into wood, asphalt, or the ground.
End types discussed in this video include chamfer, semi-cone point, chisel point, and angle cut. This FAQ covers these and other end types and their various applications.
Watch Video
Are mass-produced washers 100% domestic?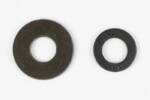 A washer is a steel ring placed under a nut and/or bolt head to spread the pressure when the assembly is tightened. A washer also creates a smooth bearing surface for the nut to turn against. There are two common types of flat washers used in the construction industry and they can be found in virtually every fastener warehouse in the country.
ASTM F844 flat washers are intended for general use and are typically paired with low-strength bolts. ASTM F436 washers are hardened and used with structural bolts, F1554 anchor bolts, and other high-strength fasteners.
Until recently, both washers have been readily available with 100% domestic origin. However, that has recently changed and one of these washers is becoming increasingly difficult to source from American-made steel. This FAQexplains which of these domestic washers is disappearing and options for federally funded highway projects or government and military projects that require 100% domestic fasteners.
continue reading →
Bayonne, NJ / Staten Island, NY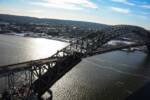 The Bayonne Bridge connects New Jersey with Staten Island, and upon its completion in 1931 was the longest steel arch bridge in the world. In 2013, the bridge began a major rehabilitation project that will eventually raise the bridge's clearance from 151 feet to 215 feet to allow for larger ships to pass underneath.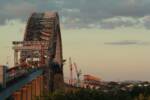 In late 2015, Portland Bolt manufactured 2″ diameter A449 hot-dip galvanized anchor rods and high strength coupling nuts as part of this Port Authority of NY & NJ highway project. This is one of over 1,200 orders Portland Bolt has shipped to the Eastern time zone in the last year.
continue reading →