Educational Website Covering Shear Plate Timber Connectors
Our newest website, www.shearplates.comcontains technical information related to shear plates, a special connector which is set in pre-cut daps in wood timbers and designed to spread the load, reducing the number of bolts required.
Features will include photos and dimensions of the connectors, dapping tools used to install them, step-by-step installation instructions, frequently asked questions regarding shear plates, and a video demonstrating proper installation techniques.
How to Order Tie Rods
Q. What information do I need to provide when ordering tie rods or requesting a quotation to ensure that I receive the correct product? 
A.  Tie rod assemblies can be very complicated and confusing to someone who does not deal with them on a routine basis. If you are not experienced in dealing with tie rod assemblies, you may not understand all of the necessary information that is required to ensure that you receive the proper components for the tie rods to function correctly and assemble smoothly. The good news is that Portland Bolt's experienced sales staff is trained to ask all of the questions necessary to ensure you receive the correct components.
Follow this link for a list of information that our estimators will need to know in order to work up an accurate quotation.
If you have a pin-to-pin dimension for your tie rod assembly and need to know the length of the rod(s), check out our Tie Rod Calculator.
Bridge to Prosperity
Sevierville, Tennessee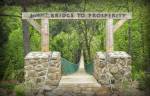 In 2011, Foxfire Mountain Adventures in Sevierville, Tennessee began the construction of a new swinging bridge at their adventure park that lies in the shadow of the Great Smoky Mountains. When the contractor in charge of the bridge construction had trouble sourcing the hundreds of specialty galvanized double ended eye bolts required for the suspension of the bridge walkway, he turned to Portland Bolt. By working with the customer, we were able to custom fabricate hundreds of these special double ended eye bolts to the contractor's requirements, as well as manufacturing several hundred custom galvanized U-bolts and round bend hook bolts that were required for the connection of the ties and planks of the bridge. Read more.