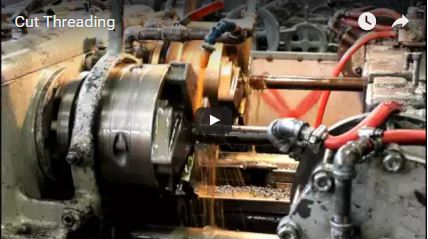 Threads of a fastener are produced through one of two processes, cutting or rolling. Previously, we produced a roll threading video which shows threads being formed by "rolling" round bar between two threading dies which displaces the steel to form the threads. Although roll threading is extremely efficient, it is limited by the length of thread, strength of the steel, and diameter of the parts.
Cut threading is a process in which round bar is fed into rotating threading chasers that "cut" the threads into the round bar. Portland Bolt can cut threads of virtually any length on fasteners through 6″ diameter in any ASTM grade. Our Landis cut threaders can form a variety of thread profiles including Unified National Coarse, 8UN, Acme, lag, and fetter.

In 2015, ASTM introduced the new F3125 specification which is a consolidation and replacement of six ASTM standards, including: A325, A325M, A490, A490M, F1852, and F2280. ASTM specifications A325 and A490 now become grades within the F3125 specification.
Currently, F3125, A325, and A490 continue to coexist which can create a bit of confusion. Until the A325 and A490 specifications have been eliminated by ASTM, Portland Bolt will continue to manufacture and sell A325 and A490 heavy hex structural bolts under their existing specification requirements, unless F3125 is referenced on the inquiry and/or purchase order.
So what's different? Since Portland Bolt does not sell tension control bolts or metric fasteners, we will focus on A325 and A490 structural bolts. The most significant difference under the F3125 specification is that A325 and A490 bolts can now possess alternate head geometry and thread lengths. Under the original specifications, A325 and A490 bolts were restricted to a heavy hex head configuration with standard structural bolt thread lengths. Altering the head geometry and/or thread lengths of these specifications is now acceptable under the Supplementary Requirement S2 of F3125, and will now be indicated with the letter "S" for "special" following the A325 or A490 grade symbol on the head of the bolt.
The other important change is that the mechanical requirements for F3125 Grade A325 bolts are the same from ½" – 1½" diameters. Under the original A325 specification, the strength requirements for bolts over 1″ diameter were slightly reduced.
learn more →
Santo Domingo, National District, Dominican Republic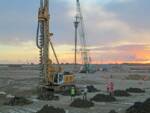 In late 2014, it was announced that two "clean coal" fired thermoelectric power plants would be constructed in the city of Santo Domingo in the Dominican Republic. The capacity of the plants is 770 MW (megawatts). The project came about as part of a solution for the Dominican Republic's energy shortages.
The project required a grand total of 140,000 pounds of anchor bolts. The majority of the anchor bolts (over 300 pieces), were 4″ diameter F1554 Grade 55 hot-dip galvanized anchor rods, with nuts welded on one end. The requirements also included similar anchor bolts in 3″, 2″, and 1″ diameters.
continue reading →
Let the madness begin! Gone are the dynasties… Hail the mid-major underdogs! Without a dominant team in 2015-16, this year's men's NCAA basketball tournament is wide open! Compete against roughly 350 of Portland Bolt's customers, vendors, business associates, and employees for a chance to win Amazon gift cards and cool Portland Bolt gear.
2016 prizes include:
First place: $150 Amazon gift card, Portland Bolt polo, and a trophy
Runner up: $50 Amazon gift card and a Portland Bolt polo
Three random contestants will receive a Portland Bolt prize pack including:
A Portland Bolt basketball
A pair of Portland Bolt pint glasses
A Portland Bolt spill-proof Camelbak Eddy water bottle
Note: Portland Bolt employees are not eligible for prizes. Thank you for your participation and good luck!