Portland Bolt FAQs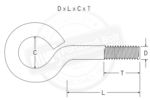 Do Portland Bolt eye bolts have load ratings?
Portland Bolt manufactures eye bolts to pretty much any size imaginable. The type of eye bolt that Portland Bolt makes is not forged, but is turned and can be welded shut if needed. When load ratings are provided for eye bolts, they are normally for forged eye bolts, where the eye is formed as one solid... Read more
Can Portland Bolt expedite my order?
Yes, Portland Bolt can rush an order though production. Portland Bolt has what we recognize as "standard lead times." These lead times consider the manufacturing processes required to complete an order. For instance, if we are going to manufacture a 1" x 36" hot-dip galvanized ASTM F1554 Grade 36 hex-head anchor bolt with 6" of thread,... Read more
Does Portland Bolt provide fasteners on Department of Transportation jobs?
Yes, Portland Bolt provides domestic fasteners with paperwork for DOT projects all over the US. We routinely have state inspectors from Oregon, Washington, and California in our facility inspecting and tagging orders for our customers. For contractors and steel fabricators in other states, we are able to ship the materials to the jobsite, or to... Read more
Why doesn't Portland Bolt have an ecommerce website where I can place orders on line?
While we've made it very easy to submit an inquiry online, we don't have a system that allows a purchase to be made online through a few simple clicks or an online listing of prices. Portland Bolt is a manufacturer of nonstandard construction bolts, which does not lend itself to an ecommerce site. While there... Read more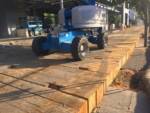 Does Portland Bolt manufacture crane mat rods and bolts?
Yes, Portland Bolt manufactures crane mat rods. Crane mats (also known as timber mats, barge mats, road mats, swamp mats, pipeline mats, and floater mats) are wooden mats used for stabilizing machinery (often cranes) on unstable ground. They can also be used as a makeshift road, similar to a corduroy road. Crane mat rods are long threaded... Read more
Does Portland Bolt manufacture the mounting brackets for tie rod assemblies?
Unfortunately Portland Bolt does not have the capability to fabricate the wall mounts to which clevises attach. These fabricated lugs need to be designed by an engineer or architect to ensure they can withstand the loads applied to the tie rod assemblies. If you have a detailed drawing of the mounting brackets, we can have them... Read more
Why doesn't Portland Bolt advertise prices on the website?
Due to the fact that Portland Bolt is a manufacturer of nonstandard anchor bolts and construction fasteners, the vast majority of the product that we manufacture and sell to our customers is custom and is manufactured to the specific requirements of the job they are being used on. Portland Bolt is not a large scale,... Read more
Does Portland Bolt load containers?
Portland Bolt does not have the ability to load cargo containers for ocean freight. We have no experience in securing the contents inside so this will have to be done by a freight forwarder. We routinely load our shipments on a truck at our facility where they are sent to be loaded in a container... Read more
Is Portland Bolt in compliance with the Conflict Mineral List?
In order to answer this question, we must first define what conflict minerals are. Any natural resource that is mined in a conflict zone and sold to perpetuate fighting is defined as a conflict resource.  The conflict minerals that are most commonly extracted are cassiterite (used for tin), wolframite (used for tungsten), coltan (used for... Read more
Does Portland Bolt make body bound bolts?
Portland Bolt cannot manufacture a body bound type bolt. An example of a body bound or tight-fitting bolt is one in which precision is required in order to hold together parts of machinery or similar applications to prevent the slightest change of position of one part on another. This type of bolt must be supplied... Read more