Portland Bolt FAQs
Can Portland Bolt assemble thread protectors to bolts?
Yes. Portland Bolt has in the past assembled mesh, and other, thread protectors onto anchor bolts and headed bolts to protect the threads during shipping. However, for large construction fasteners, it is exceedingly rare this is required or needed. Typically our sturdy packaging and shipping practices will be more than sufficient to ensure that the... Read more
Can Portland Bolt manufacture fasteners to Unified National Fine Thread Series (UNF)?
Unfortunately, Portland Bolt cannot manufacture fasteners with Unified National Fine threads. UNF thread series bolts are typically used in precision applications, such as automotive or machinery. Our threading equipment is unable to hold the required thread tolerance for UNF. Also, unlike cold-drawn steel, the hot rolled round bar we use to manufacture construction fasteners does not lend itself... Read more
Why doesn't Portland Bolt offer metric fasteners?
At Portland Bolt we often receive requests for metric dimensioned products and our response is always the same. We do not have the capabilities to manufacture bolts or fasteners with metric diameters. The reason behind this is that all of our equipment and tooling is specific to the imperial (inch) system which is the measuring system... Read more
Does Portland Bolt Collect Sales Tax?
While providing bolts to every state in the United States, we are often questioned as to why we don't include taxes on our quote and invoices. The state of Oregon, where Portland Bolt is based, is one of five states in the U.S. that does not have a sales tax. Therefore, any invoice from Portland... Read more
Does Portland Bolt assemble accessory hardware to bolts?
Unless instructed otherwise, Portland Bolt will ship nuts and washers unassembled from bolts, with a few exceptions: Tie Rod Assemblies Tie rod assemblies are commonly used in heavy timber construction and in erecting architectural and structural steel. The assemblies typically consist of a threaded rod with right hand thread on one end and left hand... Read more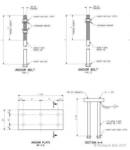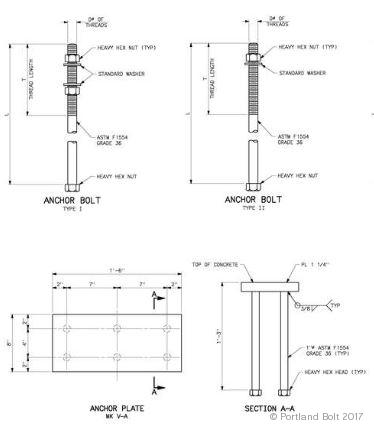 Why does Portland Bolt need me to provide a take-off for a specific project?
A take-off is a list of all the materials required to build a project based on the supplied plans. For example, if you had plans for building a dock, the plans might show a typical section of dock and you would use that to extrapolate how many board feet of timber and how many bolts... Read more
Does Portland Bolt sell steel round bar?
Portland Bolt is a nonstandard bolt manufacturing company that specializes in manufacturing custom bolts and other nonstandard construction fasteners from steel round bar.  Our extensive inventory of steel round bar is used solely for the purpose of manufacturing fasteners for our customers.  It is our desire to always provide the finished product by using the... Read more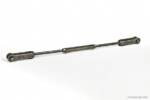 Are stock tie rod assemblies available?
Unfortunately not. Due to the custom nature of each assembly's unique diameter, length, and right hand and left hand thread requirements, we do not have a way to inventory "standard" assemblies. Clevises also have several options per size including tap size, right or left hand threading, pin size, and grip which is the reason these... Read more
Can Portland Bolt mail me a catalog and a price list?
Portland Bolt does not have a traditional catalog or price list. The reason for this is because the majority of fasteners supplied by Portland Bolt are custom made on a per order basis. Once manufactured, the parts are shipped out immediately to the end user, so a price list would not be easy to compile. Portland... Read more
Does Portland Bolt produce bolts with a Class 3A thread? What does the "A" mean in "3A"?
Portland Bolt does not manufacture or supply bolts with a Class 3A thread. Instead, Portland Bolt manufactures and supplies bolts with a Class 2A thread and nuts with a Class 2B thread. The A designates a male thread and the B designates a female thread. Essentially there are three different classes of threads, the difference... Read more